One of the most frequently asked questions is salted vs unsalted butter – what is the difference? We're breaking it down, along with simple substitutes, how to store and more!
Butter is such an important key ingredient in your cookies! Understanding the difference between salted butter and unsalted butter can fundamentally improve your baking for the better.
Does it make a difference which type you use? Will it ruin your recipe if you only have the kind that's not required? Butter makes everything better, but only if you know these key rules of thumb for choosing the best butter for baking!

The Difference Between Salted and Unsalted Butter
What's the difference between salted and unsalted butter? It's simply – salt! These butters are almost exactly the same, with one key difference: salt. Salted butter simply has additional salt on top of the sweet creamy flavor.
Since butter is used in a wide variety of recipes, it's important to have a basic grasp of the fundamentals. Learn how to substitute the different types of butter and which kind is generally preferred, depending on the type of recipe you're tackling.
Salted Vs Unsalted Butter – a Comparison
Salted Butter
Salted Butter is butter with added salt. It's truly the only difference. The added salt acts as a preservative extending shelf life.
Salt brings out all the other flavors in baking. If you opt to use salted butter, it's typically best to reduce or omit salt in the recipe.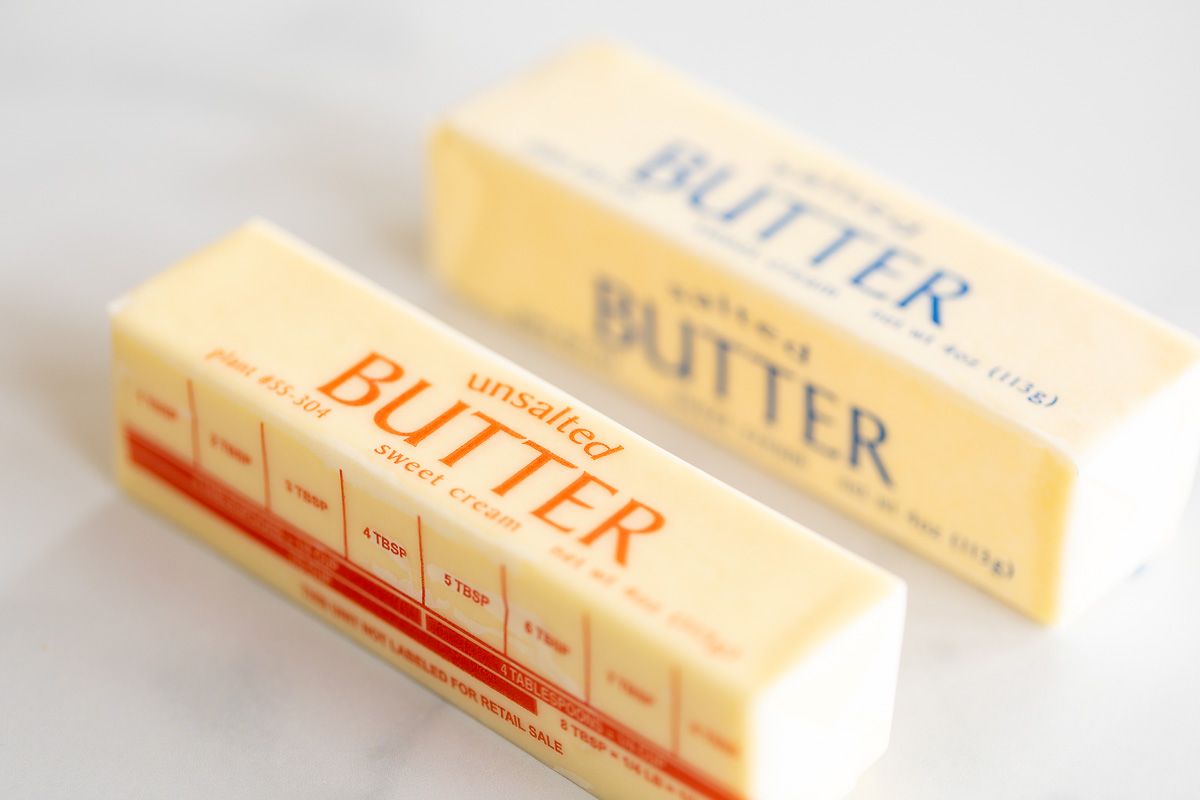 Unsalted Butter
Unsalted butter is butter in its purest form – there is no added salt. It is often fresher in taste. Salt is a natural preservative, so unsalted butter has a shorter shelf life.
It tends to have a slightly sweet flavor. Most recipes are based on unsalted or sweet butter. It is a go-to for baking.
If a recipe doesn't specify, you'll generally want to use unsalted butter.
Unsalted butter gives you complete control when cooking and baking, allowing you to add salt as needed. This helps you customize a recipe to your tastes and dietary needs!
Substituting Salted and Unsalted Butter
Typically, every half cup (1 stick, ¼ pound, 115 grams) of salted butter contains about ¼ teaspoon of salt. To substitute unsalted butter for salted butter, add ¼ teaspoon salt. To substitute salted butter for unsalted butter, reduce salt in the recipe by ¼ teaspoon.
Unfortunately, the amount of salt can vary between brands. Since baking is all about science, it's important to proceed with caution and taste prior to adding salt.
Do not use salted butter without omitting or reducing salt in simple recipes like sugar cookies. It's more suitable for flavorful recipes like Chocolate Chip Cookies.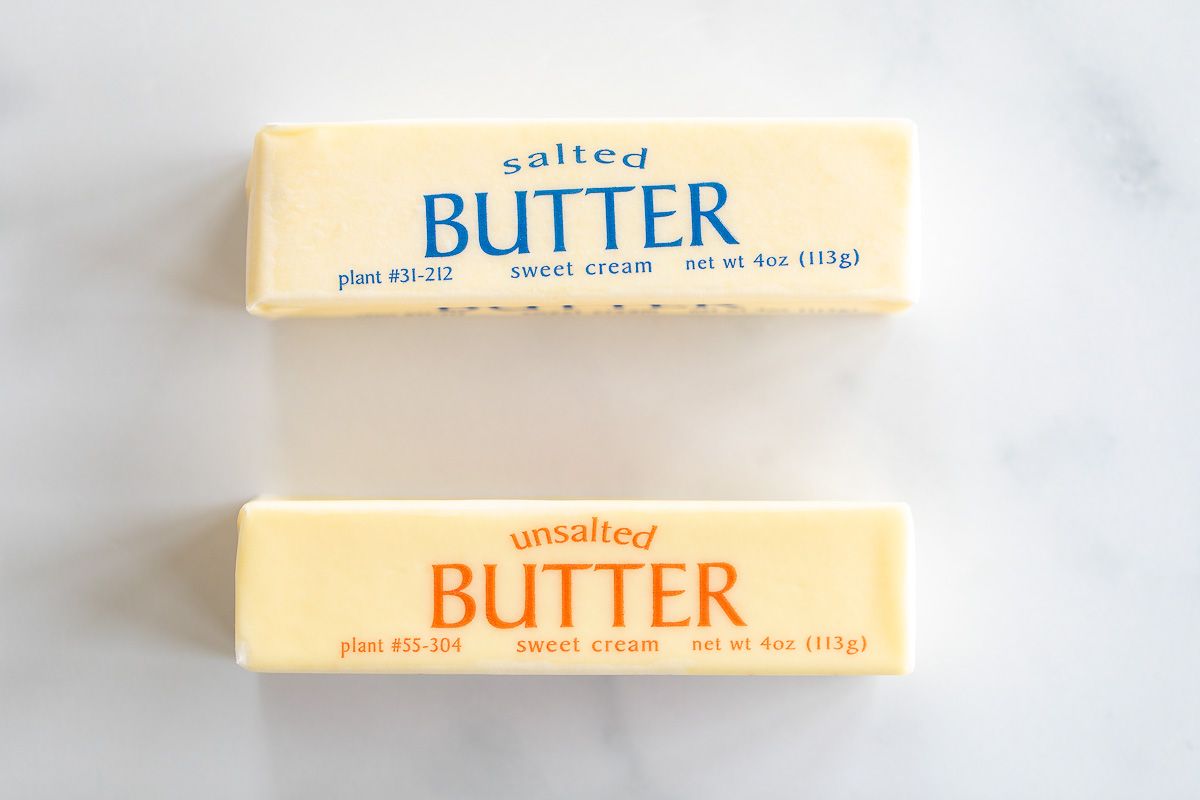 Frequently Asked Questions
Can I substitute salted butter for unsalted butter?
Yes, you can. You may want to omit or reduce the amount of salt in the recipe or add salt to taste before adding eggs.
What is the healthiest butter?
The only difference in nutrition between salted butter and unsalted butter is the sodium. Per USDA salted butter has 90 milligrams of sodium per tablespoon.
How long is salted butter good for?
Salted butter can be kept on the counter at room temperature, however, it will stay fresh longer refrigerated. It keeps well up to five months refrigerated. It can be frozen up to six months if frozen prior to the use by date without losing flavor.

It is best wrapped in its original container with the date and placed in a freezer bag to prevent odors from seeping in. Alternatively, you can use plastic freezer wrap. Beyond that, it may absorb freezer odors or lose flavor. Use within 30 days after removing it from the freezer.
How long is unsalted butter good for?
Unsalted butter keeps well 1-3 months refrigerated, according to USDA. It can be frozen up to four months in its original container and placed in a freezer bag or wrapped with plastic freezer wrap or waxed paper and placed in a freezer bag.
You can test for yourself using Disappearing Marshmallow Cookies, Eggless Chocolate Chip Cookies, and Christmas Wreath Cookies which taste amazing with a hint of added salt.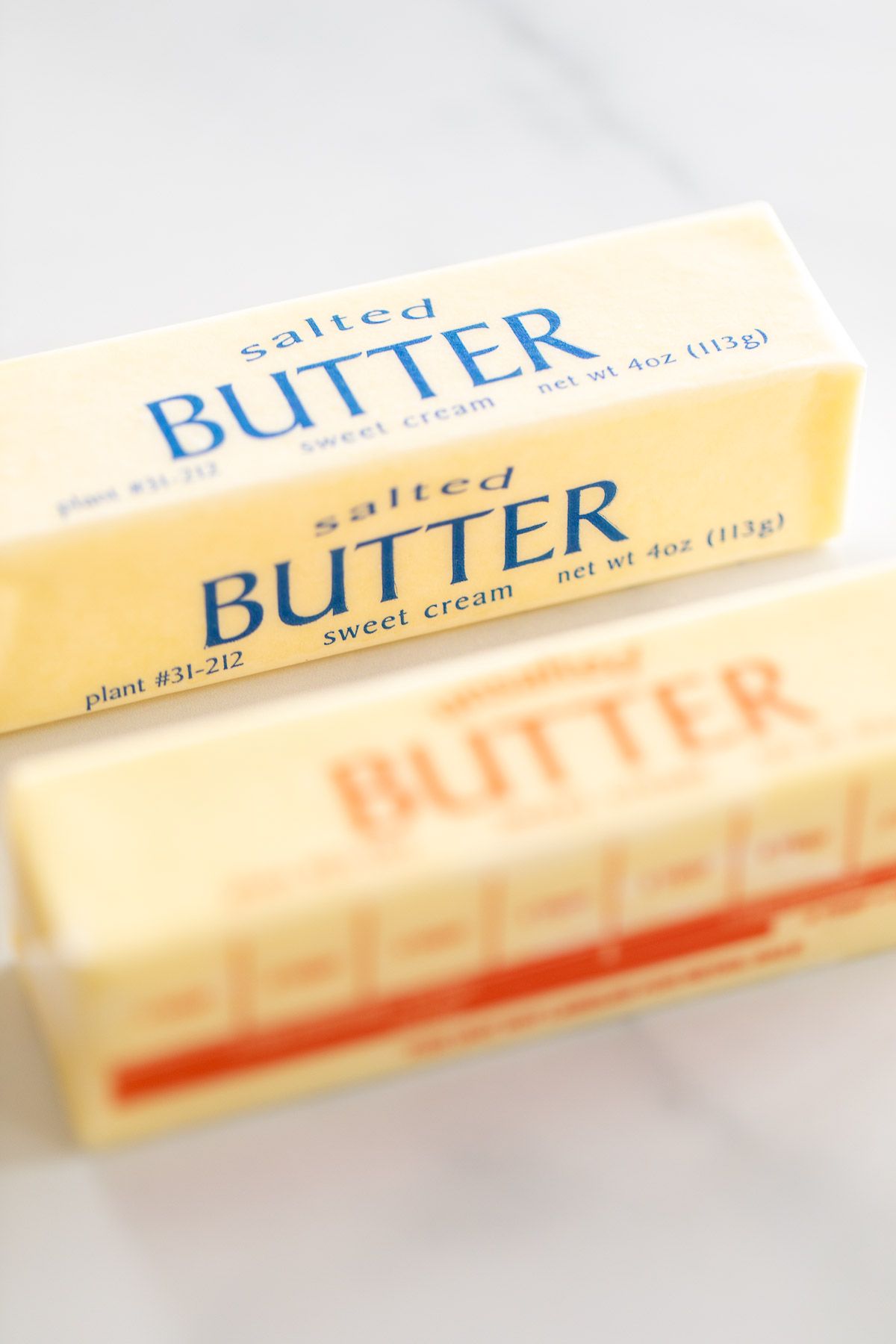 Now you know the difference between salted vs unsalted butter!
Join the cookie club! Receive the best new cookie recipes and tips delivered directly to your inbox!
Brown Butter
Printable Cookie Tips
Room Temperature Butter