A soft bakery-style lemon cookie with zesty lemon buttercream frosting that is simple to make and sweet to eat.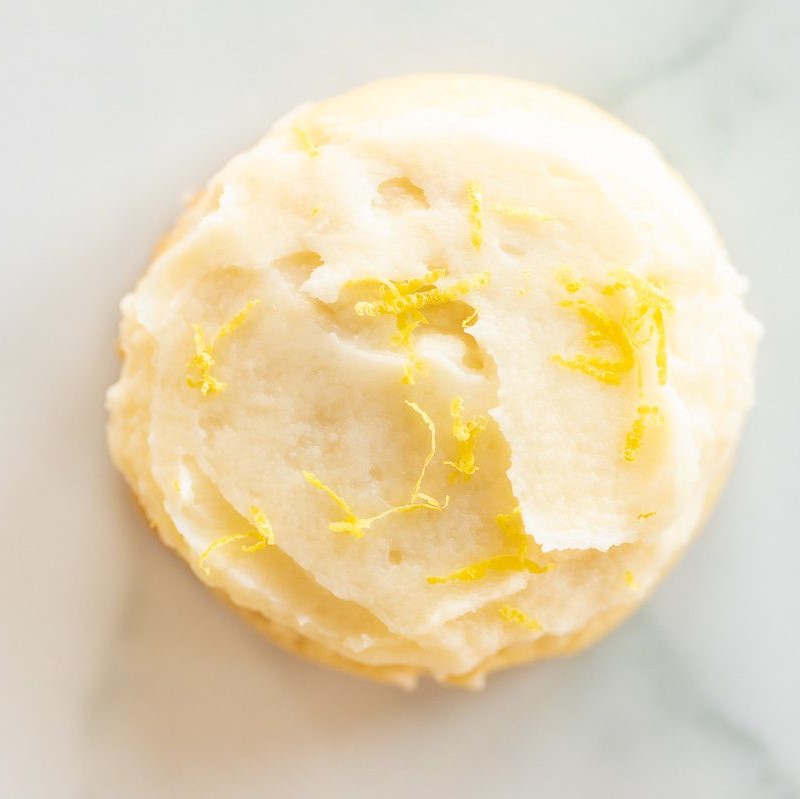 Fresh, citrusy, melt-in-your-mouth Lemon Cookies covered in lemon buttercream are made with just a few simple ingredients!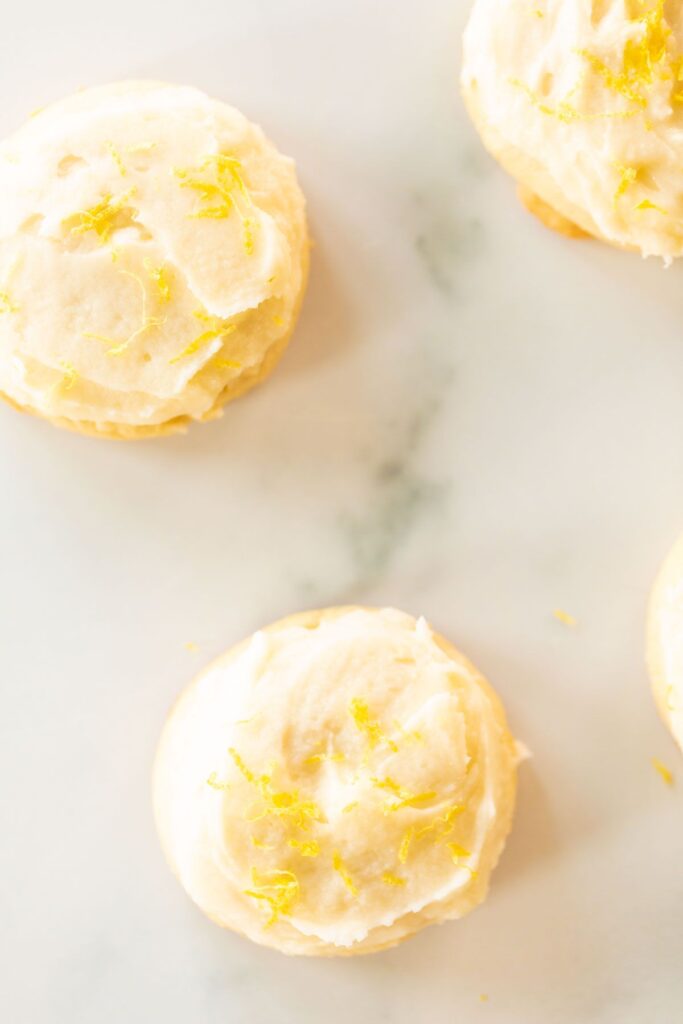 One of lemon's great qualities is how refreshing it is. Combine that with the sweetness of this melt-in-your-mouth cookie, and you get a lemony treat that is sure to liven your day.
If you're in the mood for light-flavored cookies, you can also try these dainty meringues, cinnamon cookies, or cornflake cookies. They're all delicious and easy to make, with mild sweet flavors.
Biting into a lemon cookie is like tasting a bit of spring or summer. Its flavor is so fresh and bright. The cookie is delicious enough on its own, but then you get to add a layer of zesty lemon buttercream frosting. The combination of a soft baked cookie with smooth creamy frosting full of lemon zest is unbelievable.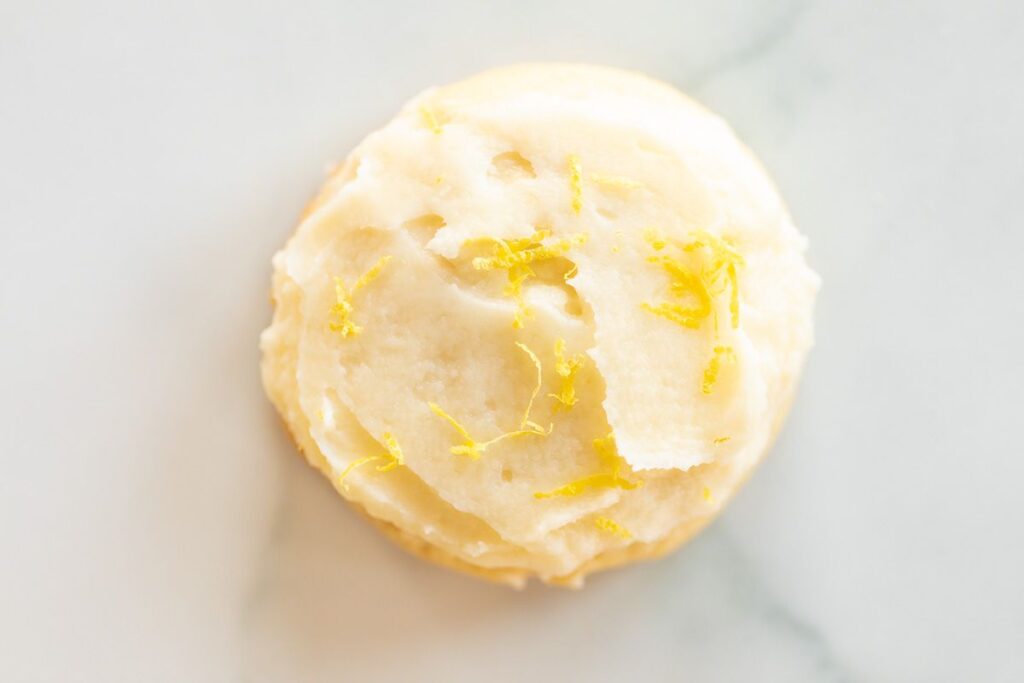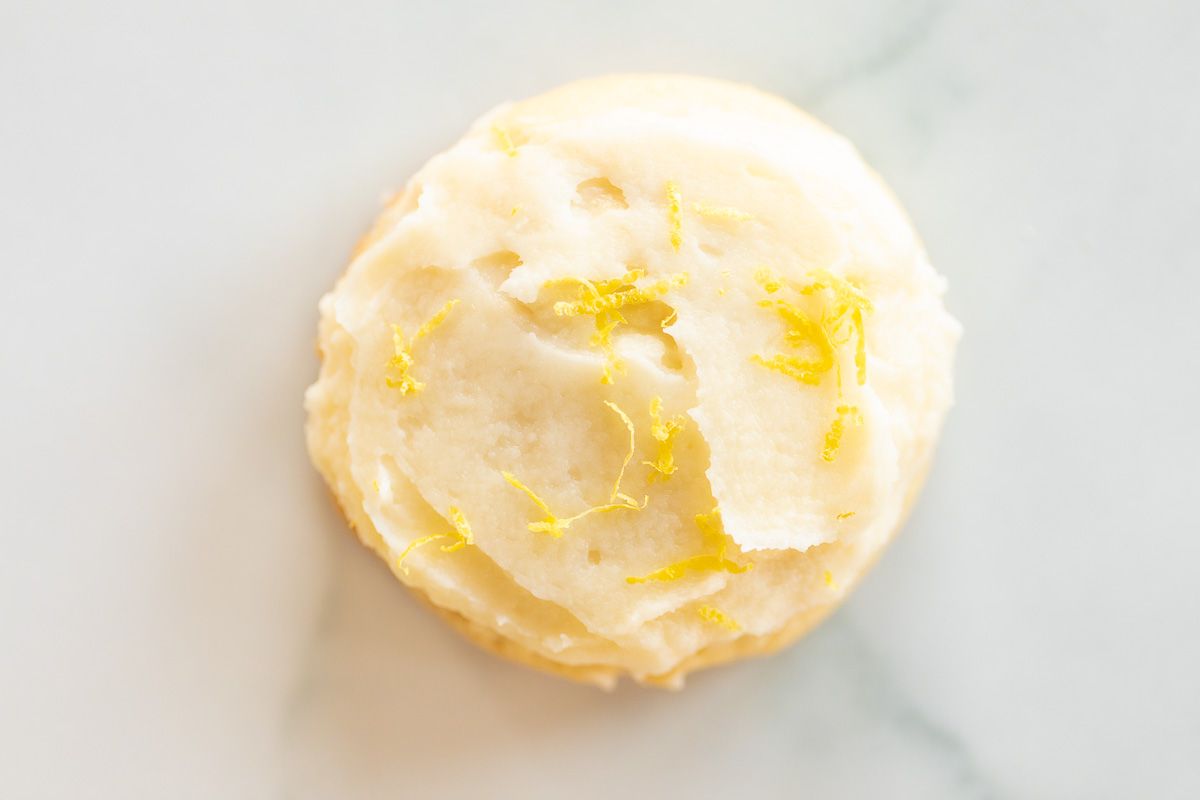 Don't let the citrus flavor just stay in spring and summer, though. This incredible flavor is a nice change from typical fall and winter flavored cookies. Lemon cookies will brighten up anyone's day, any time of year, and for any occasion!
About Lemon Cookies
Melt in Your Mouth
Bright Lemon Flavor
Quick and Easy
Bakery Style
Tools You Need
Mixing Bowl
Mixer – stand or hand held
Rubber Spatula
Citrus Zester
Measuring Cups and Spoons
Baking Sheet
Parchment Paper (optional)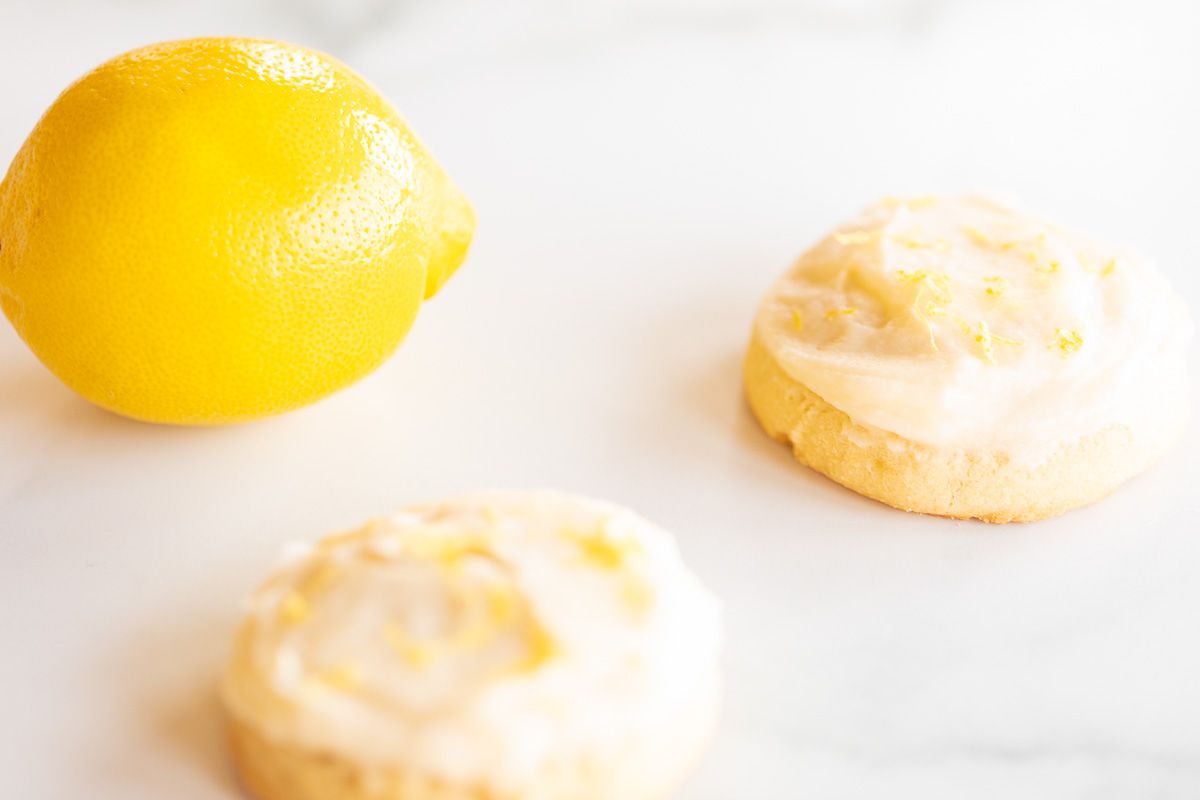 What You Need to Make Lemon Cookies
Cookies
Butter – For a buttery taste, and to incorporate sugar and flour/
Vegetable Oil – Makes the cookies really soft.
White Granulated Sugar – Adds a hint of sweetness with a little crunch.
Powdered Sugar – Adds to their melt in your mouth quality.
Eggs – Binding agent that holds all the ingredients together.
Lemon Extract – Adds a subtle and distinct lemon flavor and aroma.
Flour – The base of the cookie
Salt – Omit if using salted butter.
Cream of Tartar – This leavening agent reacts with baking soda giving the cookies a light and fluffy bite.
Baking Soda – The second leavening agent to give these cookies a beautiful rise.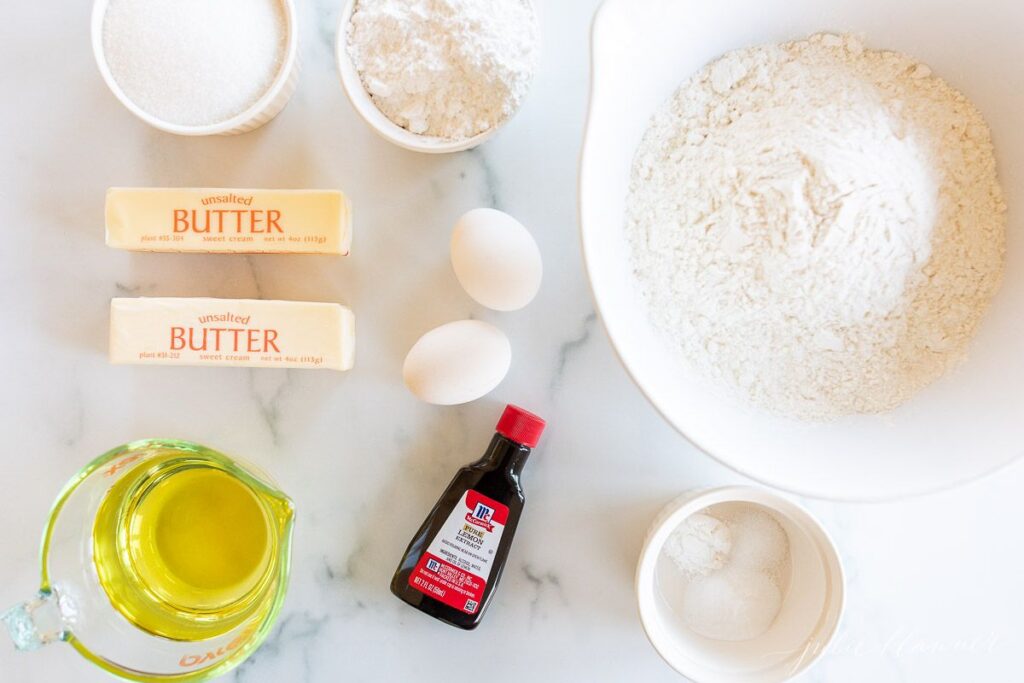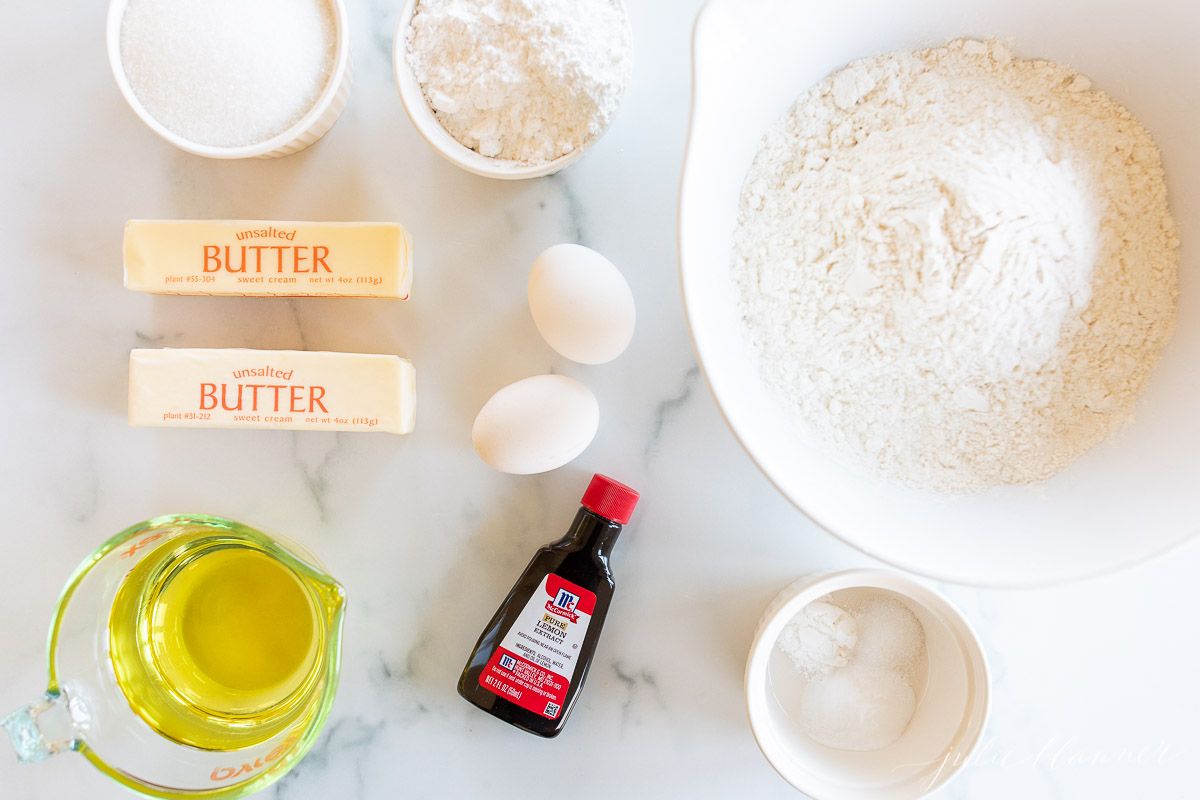 Lemon Buttercream Frosting
Butter – Softened
Powdered Sugar – Makes frosting sweet and smooth
Lemon Juice – Freshly squeezed or 100% real lemon juice.
Lemon Zest – Optional, for an extra lemon zing
How to Zest a Lemon
A lemon zester is a small, handled kitchen tool with a few small holes at the end. Press these holes into the lemon and pull toward you to scrape the yellow skin of a lemon, giving you little strips of lemon peel.
A microplane zester is similar to a grater, but with a narrower head and small, square grates or teeth. Hold firmly by the handle and rub the lemon across the teeth, over a bowl. This will produce small shavings of lemon peel.
Do not get the white pith into your zest, as it tastes bitter.
Zest the lemon before cutting it in half to squeeze out the juice.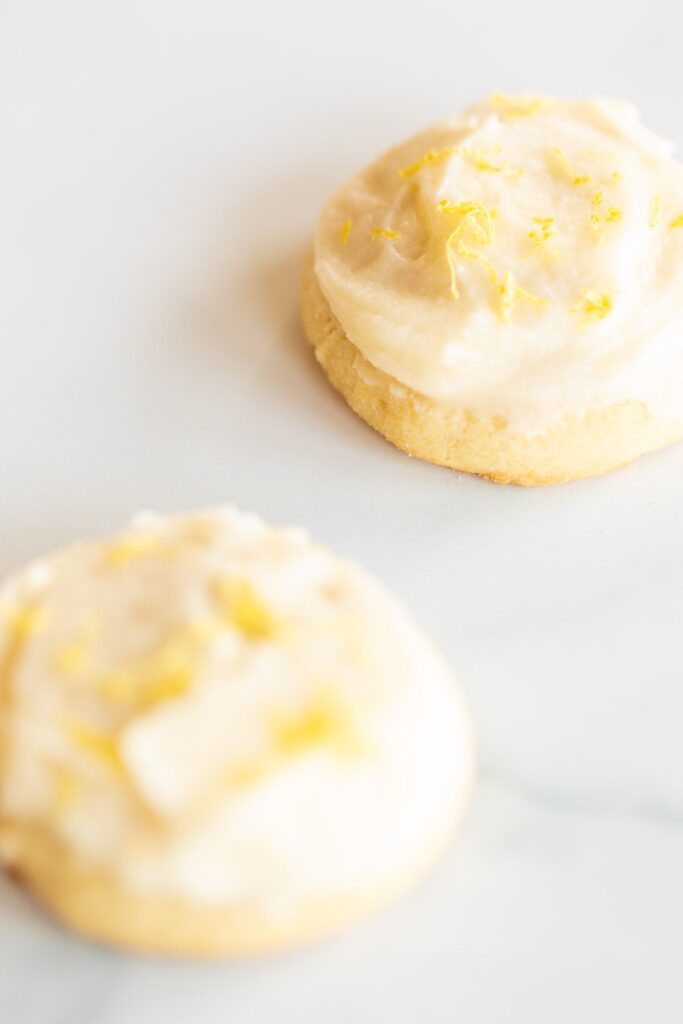 Variations
Sugar – Roll cookie ball in granulated sugar before baking for a sweet sugary crunch.
Candies – Put a couple of small lemon candies on top of the frosting.
Sprinkles – Crush lemon candies and sprinkle them on top of the frosting.
Chocolate Chips – Add a cup of mini chocolate chips to the dough for Lemon Chocolate Chip Cookies.
Fruit – Place sliced strawberries or fresh raspberries on each cookie.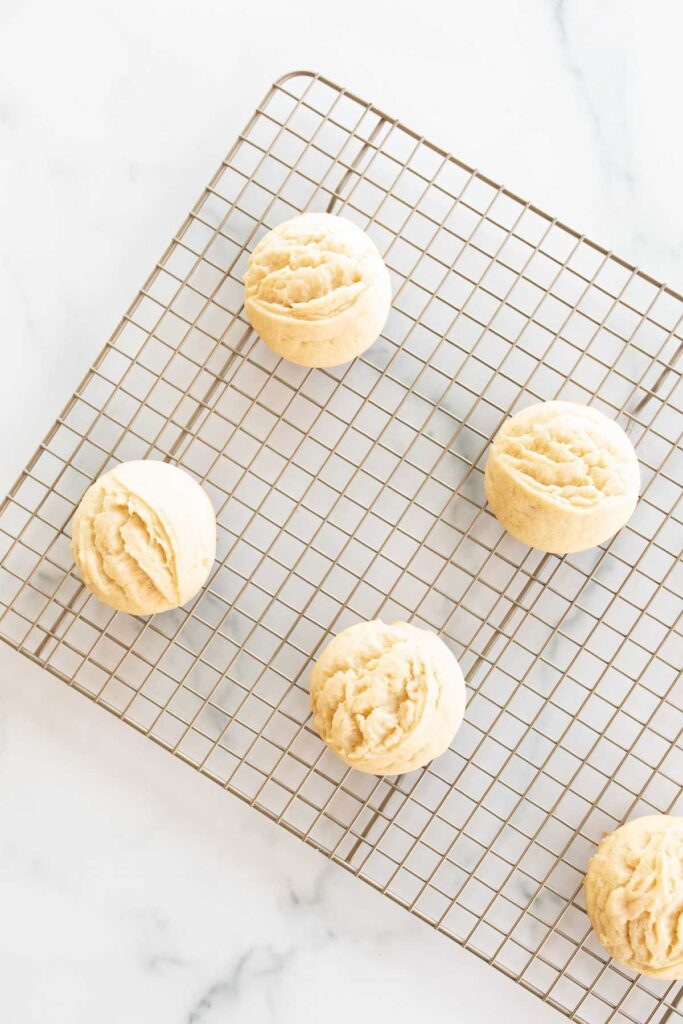 Overview | How to Make Lemon Cookies
The full printable recipe is below.
Beat Butter and Sugars Until Smooth – In a medium mixing bowl, beat butter and sugars until completely smooth. Add egg and lemon extract until just combined.
Add Dry Ingredients – In a small mixing bowl, combine dry ingredients. Gradually blend into wet mixture.
Chill Dough – Cover bowl and chill in refrigerator for about an hour.
Roll into Balls – Scoop or roll dough into balls the size of a golf ball. Leave a few inches between each dough ball because the dough will spread when baking.
Bake – Bake in a 350o F oven for 8-9 minutes. Do not overbake.
Cool – Allow cookies to cool 1 minute before transferring to a wire cooling rack to cool completely. This allows cookies to set while preventing them from continuing to bake on the cookie sheet, which makes them become hard or dry.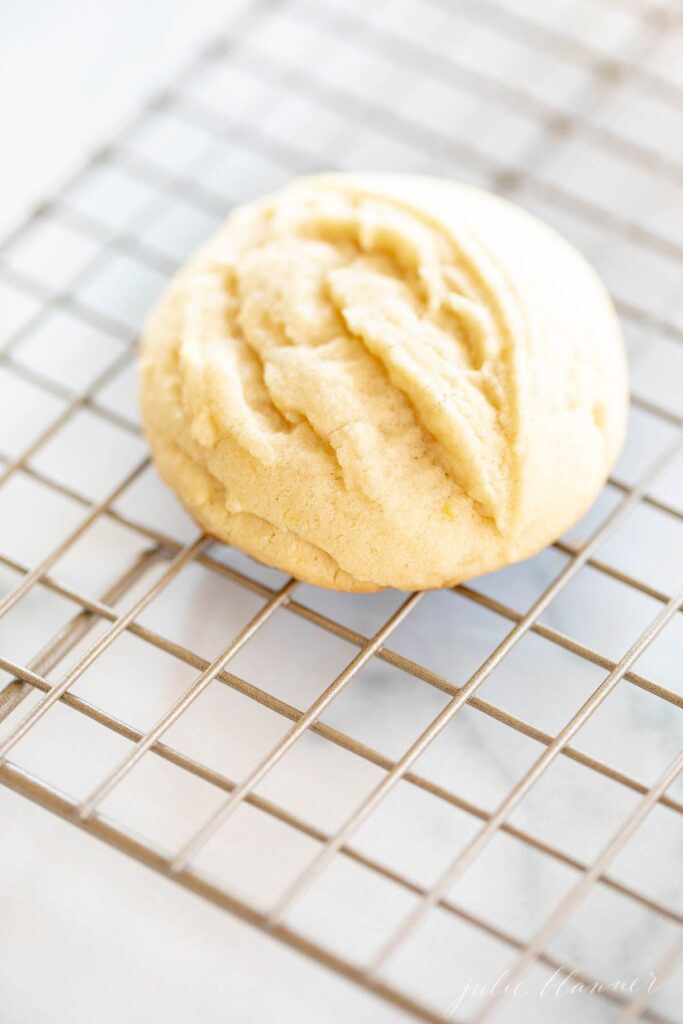 How to Make Lemon Buttercream Frosting
Make sure your butter is softened and will whip easily. Beat butter until it is smooth.
Add lemon juice and lemon zest. Stir until combined.
Gradually mix in the powdered sugar until fluffy.
Thin with milk if necessary, a couple of drops at a time.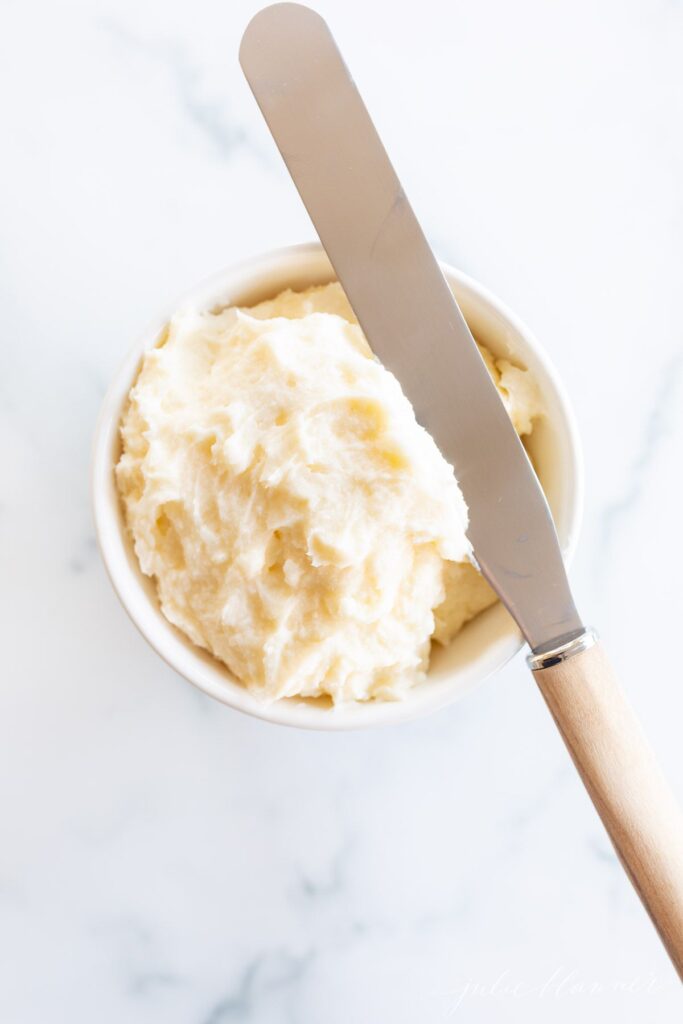 Tips
Zest your lemon first. Then cut it in half and squeeze the juice through a strainer. Or, squeeze the lemon juice into a bowl and remove the seeds and pulp.
Don't overbake your cookies. When they are set around the edges, and just before the bottoms start to color, take them out of the oven and let them finish their last minute of cooking on the baking sheet outside of the oven.
How to Store
At Room Temperature – Store cookies in an airtight container at room temperature for up to 3 days. Keep cookies in single layer or gently separated by wax paper after frosting has hardened a bit.
Inside the Refrigerator – Once the frosting has formed a hardened shell, put cookies in an airtight container, with layers separated by wax paper, into the refrigerator for up to a week.
In the Freezer (Baked)– Freeze unfrosted cookies in layers separated with wax paper for up to 3 months. When ready to use, remove from freezer, let thaw, and then frost with fresh frosting.
In the Freezer (Unbaked/Dough) – Roll cookies into the ball shape and freeze in a single layer on a baking sheet. Once frozen, transfer them to airtight container. Put wax paper between layers. Keep in freezer for up to 3 months. When ready to use let thaw in refrigerator and then bake and frost per directions.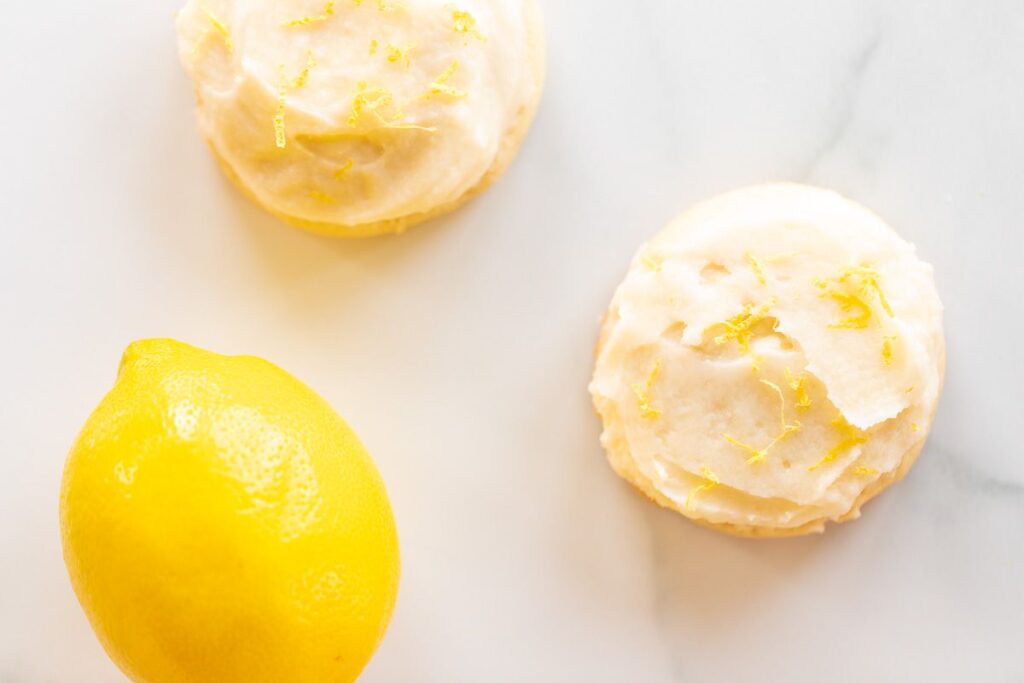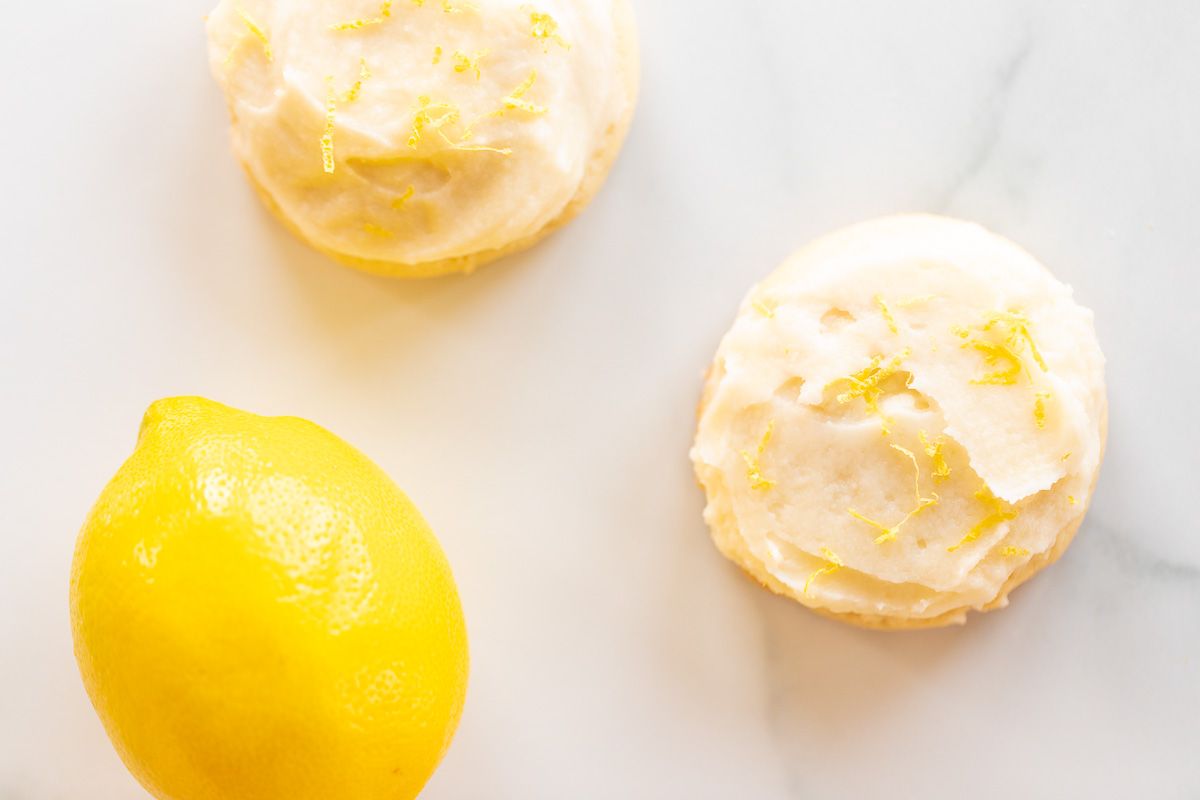 What is the difference between lemon extract and lemon juice?
Lemon juice is made from the flesh of the lemon, while lemon extract is made from the oils of the lemon peel. The lemon extract works great in the dough because it has a subtle – but not tangy – flavor that is perfect for the cookie. Lemon juice is used in the frosting because it creates the bright, citrusy taste in the fresh frosting.
Are these lemon cookies the same as lemon cooler cookies?
No, these lemon cookies have a texture more like a soft sugar cookie and then covered in buttercream frosting. A lemon cooler cookie is more like a shortbread cookie and then coated in powdered sugar.
Why do I need to chill the cookie dough before baking?
Due to the butter and oil in the dough, the cookies need to be chilled so that they don't spread too much while baking.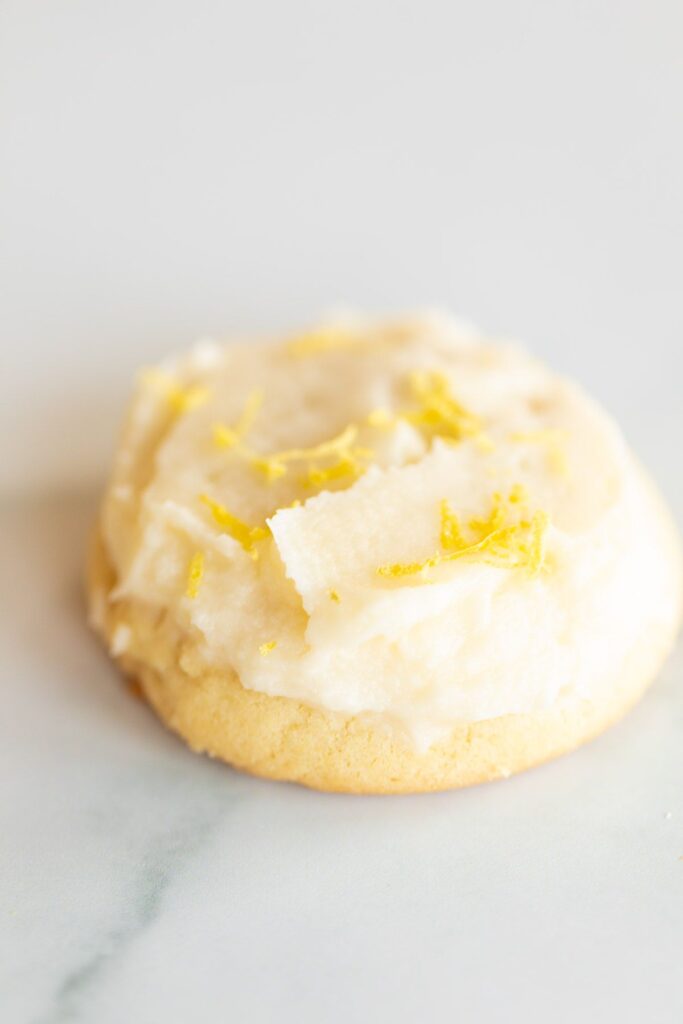 Join the cookie club! Receive the best new cookie recipes and tips delivered directly to your inbox!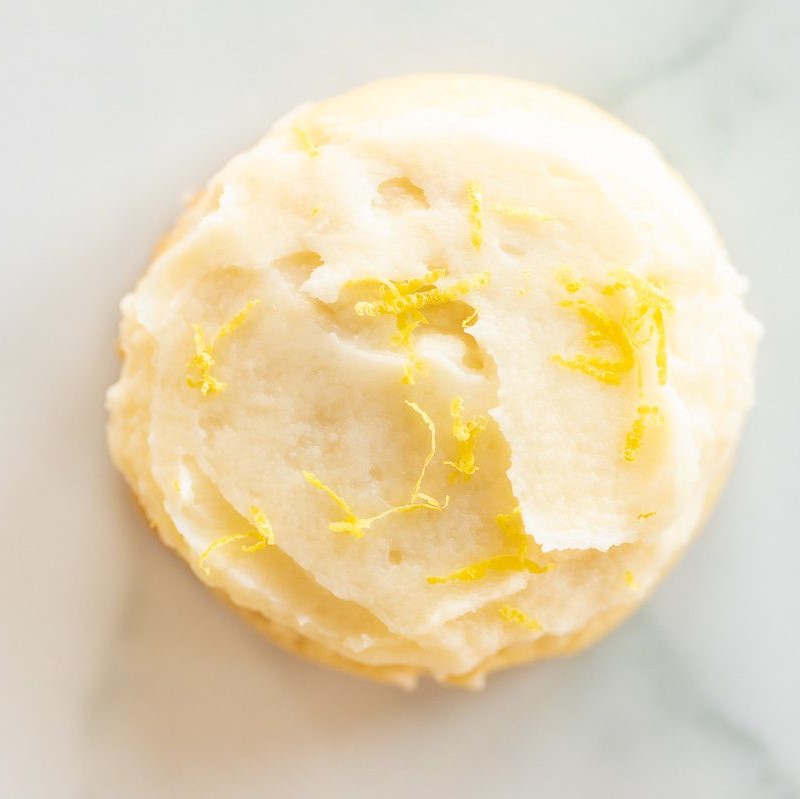 Lemon Cookies
A soft bakery-style lemon cookie with zesty lemon buttercream frosting that is simple to make and sweet to eat.
Equipment
Mixer

Mixing Bowl

Lemon Zester

Rubber Spatula

Measuring Cups and Spoons

Baking Sheet

Parchment Paper, Optional
Ingredients
1

cup

butter

,

softened

1

cup

vegetable oil

1

cup

sugar

,

granulated

1

cup

powdered sugar

1

tablespoon

lemon extract

2

eggs

4 ½

cups

flour

½

teaspoon

salt

1

teaspoon

cream of tartar

1

teaspoon

baking soda
Frosting
1

cup

butter

,

softened

5

cups

powdered sugar

2 ½

tablespoons

lemon juice

,

fresh

2

teaspoons

lemon zest

milk

,

to thin frosting
Instructions
Combine butter, oil, sugars, and lemon extract.

Add flour, salt, cream of tartar, and baking soda until incorporated.

Cover bowl and refrigerate for 1 hour.

Roll dough into golf ball-sized balls. Fit 6 on a baking sheet.

Bake 8-9 minutes until done. Do not overbake.

Let cool on baking sheet 1 minute before removing to cooling rack.
Lemon Buttercream Frosting
Beat butter until it is smooth.

Gradually mix in the powdered sugar.

Add lemon juice and lemon zest; mix until combined.

Add milk, a few drops at a time until frosting is thin enough to spread.
Notes
Let cookies cool completely before frosting them.
Nutrition
Serving:
1
g
Calories:
393
kcal
Carbohydrates:
57
g
Protein:
5
g
Fat:
17
g
Saturated Fat:
11
g
Cholesterol:
57
mg
Sodium:
264
mg
Potassium:
75
mg
Fiber:
1
g
Sugar:
33
g
Vitamin A:
466
IU
Calcium:
13
mg
Iron:
3
mg