Big and bold with the delicious flavors of cookies n cream candy bar and Oreos, all baked together in an easy, homemade dough!


Cookies n Cream Cookies are a bold cookie you'll never forget! A cookies and cream candy bar and Oreo cookies join a delicious homemade dough to make an oversized cookie that you can't get enough of!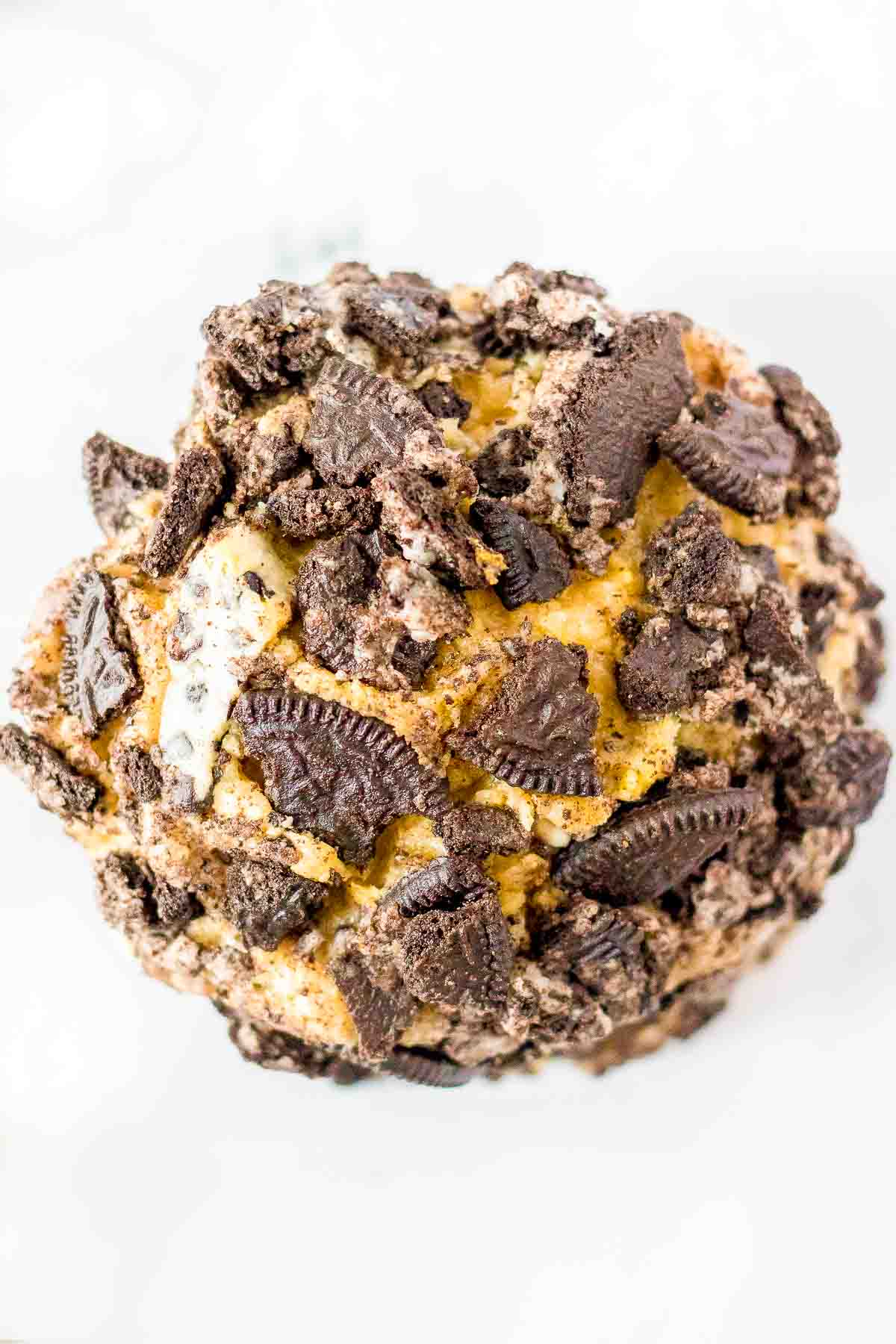 Cookies and Cream Cookies are the ultimate cookie lover's treat! If you're in the mood for a serious cookie, then this is the cookie you need. These cookies aren't like all the others. They're HUGE – you'll be impressed by a cookie of this magnitude. They are packed full of incredible cookie flavor.
This Cookies n Cream Cookie recipe begins by making a delicious dough. Then come the cookies n cream candy bar crumbles. They are incorporated into the dough to make each bite incredibly gooey and amazing! In the center there's an Oreo surprise. If that isn't enough it's rolled in crumbled Oreos creating a delicious mosaic!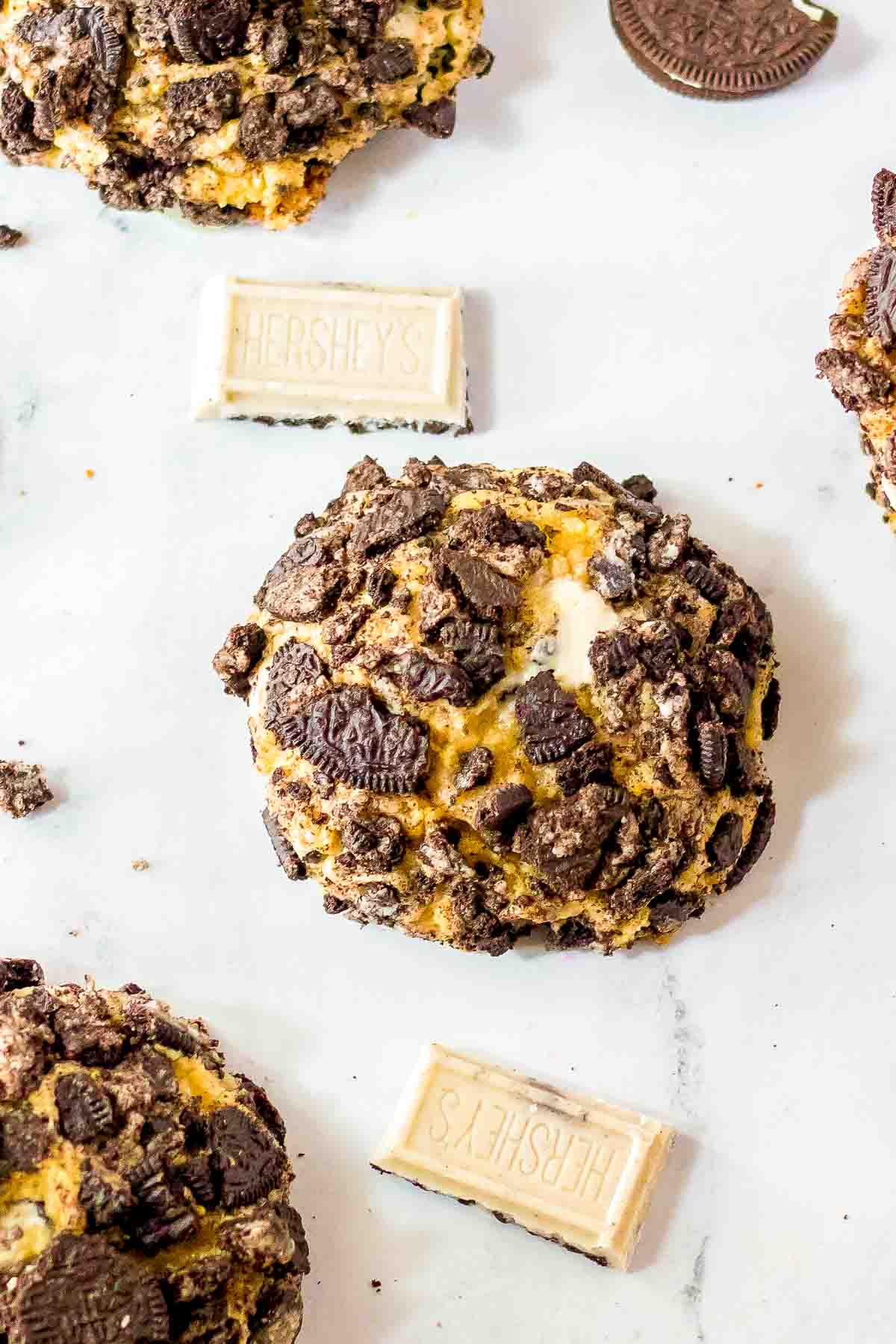 If you've been to Gideon's Bakehouse in Disney Springs then you know about their giant cookies and how delectable they are! If you're not able to head to Florida to get your cookie fix, then you've got to try these Cookies and Cream Cookies. Check out some of my other unique and fun cookies, like Oatmeal Cookie Sandwiches, Strawberry Cheesecake Cookies, and Lemon Cookies.
These cookies make a statement – from their flavor to the size. So they make fun and unique edible gifts. Of course, they'd be a hit anywhere and anytime you served them. Try a batch at your next party or gathering for a dessert that is also a conversation piece!
A big platter of these giant cookies is sure to be a hit at a party for teenagers or tweens. They're delicious paired with a tall glass of milk!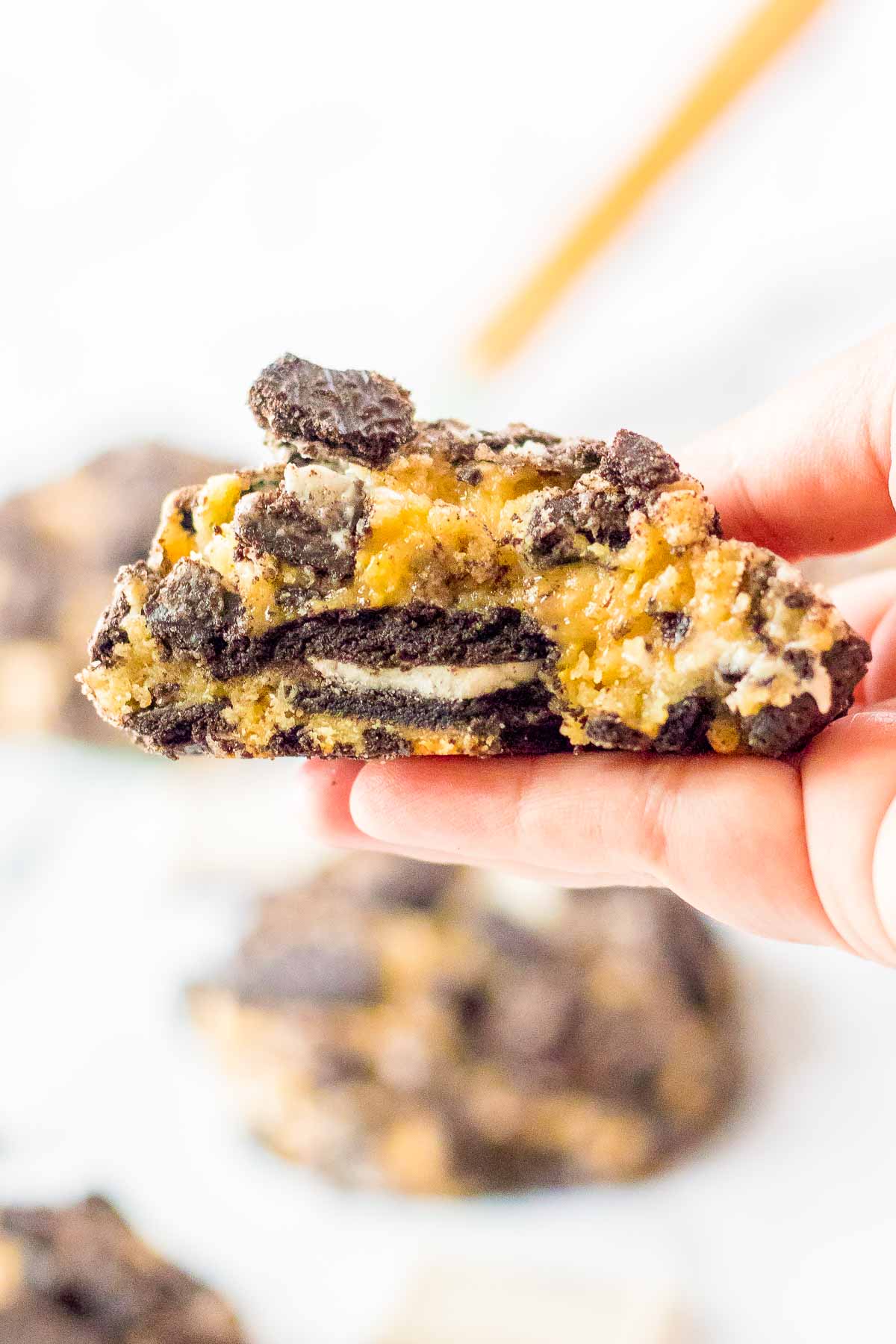 Why You'll Love Cookies n Cream Cookies
Packed with Flavor – and a Full Oreo!
Made with Cookies n Cream Candy Bar and Oreo Cookies for the Best Cookies n Cream Flavor
Fun for Parties and Perfect for Gifting
Tools You Need
Large Mixing Bowl
Stand or Hand Held Mixer
Measuring Cups and Spoons
Rubber Spatula
Baking Sheet
Parchment Paper, optional
What You Need to Make Cookies n Cream Cookies

Butter – Unsalted butter, softened.
Granulated Sugar – Sweetens these cookies while adding a little crunch.
Brown Sugar – Brown sugar sweetens and makes the cookies soft and chewy. You can use light or dark brown sugar.
Egg – A large egg helps ingredients stick together and adds a little extra lift.
Vanilla – Pure vanilla extract adds a hint of flavor.
Flour – All-purpose flour, no need to sift. You can learn how to properly measure baking ingredients here.
Salt – Reduce to 1/4 teaspoon if you are substituting salted butter. Salt brings out all the other flavors in baking.
Baking Powder – The leavening agent that makes these giant cookies rise.
Cookies and Cream Candy Bar – Chopped into chunks so you get the flavor and texture in every bite.
Oreos – These cookies are rolled and stuffed with an entire package of Oreos for maximum cookies and cream taste!
Variations
Make Standard Sized Cookies – Make 1″ to 1 1/4″ dough balls. Cut Oreos into 1/4ths and place a piece inside each cookie dough ball. Reduce bake time to 8-10 minutes.
Use Oreos with different colored filling to coordinate with holidays.
Overview | How to Make Cookies and Cream Cookies in 6 Easy Steps
The full printable recipe is below.
Cream Butter and Sugars – Cream butter and sugars to aerate the dough adding extra lift and fluffy texture. Add the egg and vanilla to combine.
Make the Dough – Blend in flour, baking powder and salt until just combined. The dough will be crumbly. Add chopped candy bar (chocolate chip-sized pieces) and fold into dough.
Make Dough Balls – Divide dough into 6 portions. Put an Oreo in each and shape dough into a ball around the Oreo.
Garnish – Crush up the rest of the Oreos and place in a bowl. Roll dough balls in the crushed Oreos to cover the top and sides.
Chill – Refrigerate covered dough 30 minutes (or more). This helps them maintain their shape and size when baking.
Bake – Bake in a pre-heated oven. Allow to cool 5 minutes and transfer to a cooling rack to prevent them from continuing to bake.
Tips
Chill Cookie Dough – This will prevent the cookie from flattening too much while baking.
Dough is Crumbly – Resist the temptation to add a liquid to make it softer. The dough will stick together when pressed and turn out just right.
Frequently Asked Questions
How do I know when the cookie is done?
Bake cookies the full time. They require more time because they are so big. You'll see the edges get firm and the center will not look doughy.
How to I crush Oreos (and candy bar)?
I like to chop the candy bar using a knife on a cutting board. The Oreos can also be done with a knife or placed in a bag and hit lightly with a rolling pin.
To Store
Room Temperature – Cookies will stay fresh in an airtight container for up to five days.
Refrigerate – Store baked cookies in an airtight container for up to one week.
Freeze Cookies – Make sure to let cookies cool completely before freezing. Place cookies in an airtight container or in a freezer bag. When you're ready to eat them, thaw cookies in the refrigerator or on the counter.
Freeze Dough Balls – Freeze doughballs in an airtight container or freezer bag for up to 3 months. When you're ready to bake, remove from the freezer and bake according to recipe instructions. You can bake the dough from frozen – you just have to add a few minutes to the baking time and bake until the cookies are set.
More Cookie Recipes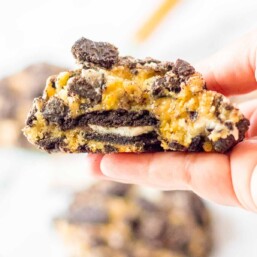 Cookies n Cream Cookies
Big and bold with the delicious flavors of cookies n cream candy bar and Oreos, all baked together in an easy, homemade dough!
Ingredients
Ingredients
½

cup

unsalted butter

,

softened

¾

cup

brown sugar

¼

cup

white sugar

1

large

egg

1

teaspoon

vanilla extract

2

cups

all purpose flour

½

teaspoon

salt

½

teaspoon

baking powder

1

6.5 ounce

cookies and cream candy bar

,

chopped into chocolate chip sized pieces

1

14.3 ounce package

Oreos

,

6 whole, remaining crushed
Instructions
In a large mixing bowl or stand mixer cream butter and sugars until fluffy (about 3 minutes).

Beat in the egg and vanilla until just combined.

Gradually add flour, baking powder and salt. Mix until just combined. Note the dough will be very crumbly.

Fold in cookies and cream bar pieces.

Divide dough into 6 equal portions and lightly form into balls.

Press an Oreo in the middle of each and form the dough ball around it.

Add crushed Oreos to a small bowl and roll dough ball to cover or press onto dough balls.

Cover dough and refrigerate 30 minutes.

Bake cookies 18 minutes. Allow to cool 5 minutes on the baking sheet and then transfer to a wire rack to cool.
Notes
How to Store Cookies
At Room Temperature – Store in an airtight container up to 5 days.
Refrigerated – Store in an airtight container up to one week. Bring to room temperature to enjoy.
Freeze – Allow cookies to cool completely. Layer in an airtight container, separating layers with parchment paper or freeze them in a freezer bag.
Nutrition
Calories:
439
kcal
Carbohydrates:
67
g
Protein:
6
g
Fat:
17
g
Saturated Fat:
10
g
Trans Fat:
1
g
Cholesterol:
72
mg
Sodium:
252
mg
Potassium:
99
mg
Fiber:
1
g
Sugar:
35
g
Vitamin A:
518
IU
Calcium:
58
mg
Iron:
2
mg