Learn about essential baking measuring tools, standard measurement abbreviations, tips and tricks for how to measure staple ingredients, plus fun new recipes for practicing. Your baking will thank you!
Baking is as much a science as it is an art. At its core, baking is a series of physical and chemical reactions that change a sum of ingredients into a completely new creation. Thankfully, you didn't have to earn an A in high school science to enjoy baking today. The hard part has already been done for us – that's what recipes are for. As long as we follow tried and true recipes, we'll end up with great results every time.
Of course, it's hard to follow the instructions if you don't know how. That's where this guide comes in. I'll show you the right way to measure everything you'll need in order to bake the perfect cookies! For more helpful guides, be sure to check out my posts on Printable Cookie Tips, Baking Soda vs. Baking Powder, Brown Sugar and Salted Butter vs. Unsalted Butter.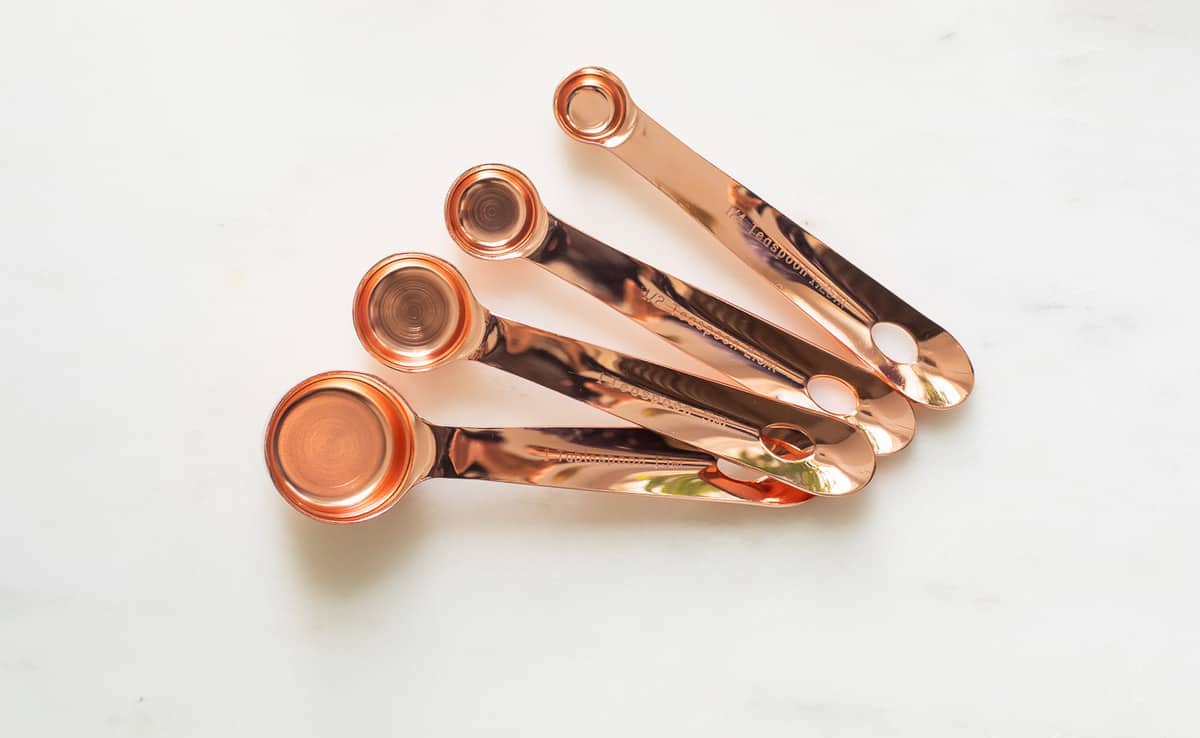 Measurement Tools for Baking
Having the right measuring tools is essential to the success of your baked goods. The smallest imbalance between important ingredients can make all the difference!
Here's everything you need to know about measuring tools…
Measuring Cups (Liquid and Dry)
It may seem obvious, but not all measuring cups are created equal. Some are made for liquid ingredients, and others are made for dry ingredients. Yes, technically both types can measure the same amounts, but they are designed specifically for their food type.
Liquid or wet measuring cups are usually made of glass or clear plastic (i.e. they're see through) with a handle on one side and a pouring spout on the other. They are often marked with incremental measurements, with the top mark just below the rim of the cup. This is what sets wet measuring cups apart from dry, because it keeps liquids from spilling over the top, even when you're measuring the full amount.
Dry measuring cups are usually made of metal or solid plastic, with a single handle and a scoop. They don't have incremental measurements on them, since they're designed to be overfilled and leveled for a precise amount. For this reason, each measuring cup is its own measurement (common sizes are ⅛ cup, ¼ cup, ⅓ cup, ½ cup, and 1 cup). It's uncommon to find a dry ingredient measuring cup in any size bigger than 1 cup. Use the right size cup and don't guess on fractions. For example, if your recipe calls for 1 ½ cups, use both the 1 cup and ½ cup.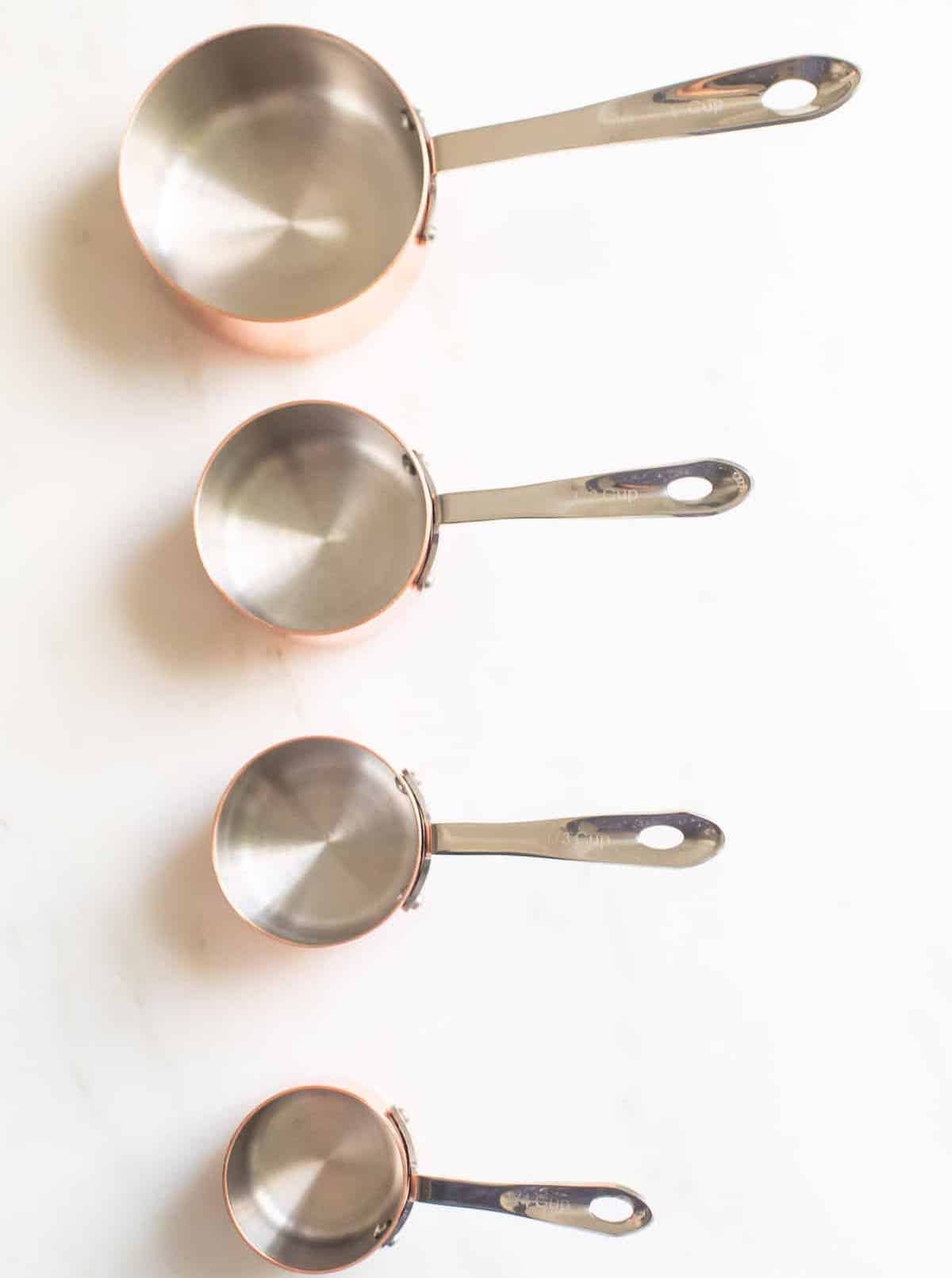 Measuring Spoons
It seems like such a small thing, but having the right measuring spoons for the job makes a huge difference. When choosing measuring spoons, keep in mind what you will be using them to measure. Round spoons with deep wells are ideal for measuring liquids, and narrow spoons are great for fitting into small spice jars. It's okay to have more than one set!
Look for a set with all of the most common sizes – ¼ teaspoon, ½ teaspoon, 1 teaspoon, ½ tablespoon, and 1 tablespoon.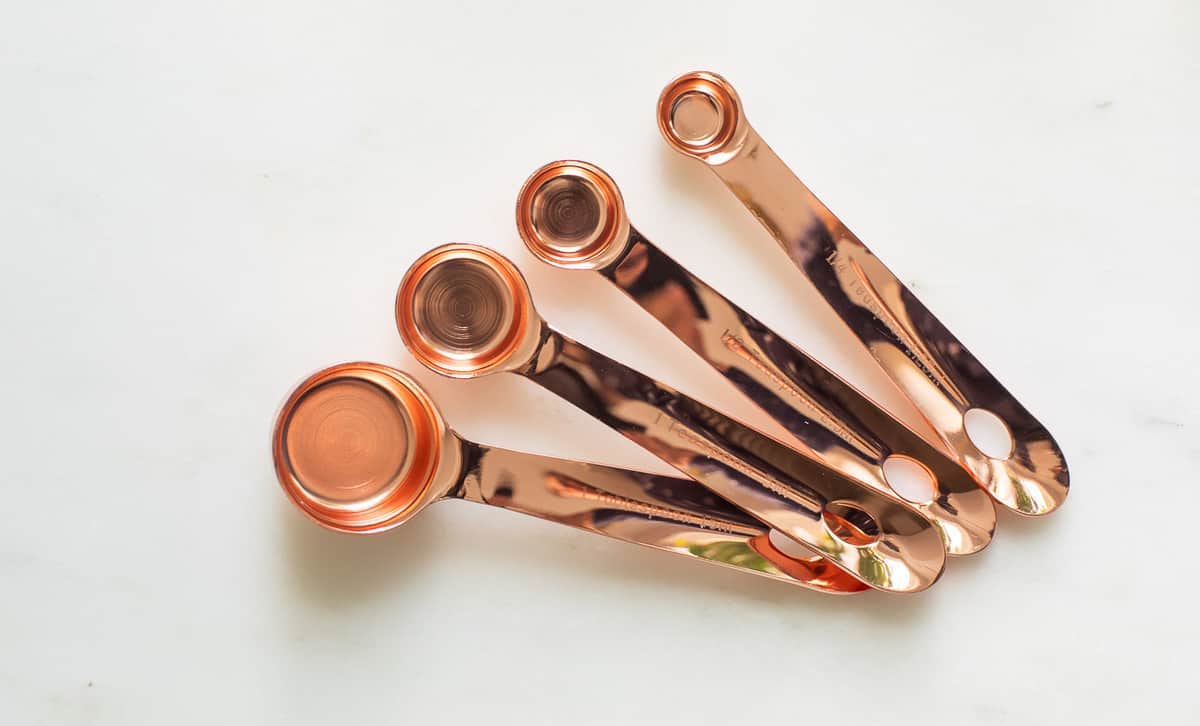 Measuring Flour
Flour is at the heart of baking, the ingredient that holds it all together. It's usually the first dry ingredient in any dessert, and it's also one of the easiest to get wrong! The most accurate way to measure flour is the spoon and level method. Most experts recommend this method.
First, use a dry ingredient measuring cup in whatever amount you need. Using a spoon, scoop spoonfuls of flour into your measuring cup until it is overfilled (the top is heaping). Use the back of a flat knife to scrape across the top of the measuring cup to level off excess flour. You can scrape the extra flour back into your container to use another time.
Test it out – Measure out your flour, then hold the measuring cup upside down over a bowl. If the flour falls out easily, then you've measured it correctly. However, if it doesn't come out easily, or if you have to help it out with a shake or a tap, it means you've packed it too tightly and you need to try again. If that's the case, try to aerate the flour with a knife or whisk before measuring.
Leavening Agents
Even though they come in tiny amounts, leavening agents must be measured correctly in order for baked goods to rise just right. These are acids and bases and chemical reactions, after all! Here is the rundown on how to measure leavening agents in baking:
Baking Powder and Baking Soda
Lightly shake or stir your container (just like flour, baking soda and baking powder settle over time and need to be fluffed up a bit). Using a measuring spoon, scoop out more soda or powder than you need (a heaping spoonful), then use the container (if it has a built-in leveler) or the back of a knife to level off the excess.
Learn more about the difference between Baking Soda and Baking Powder here.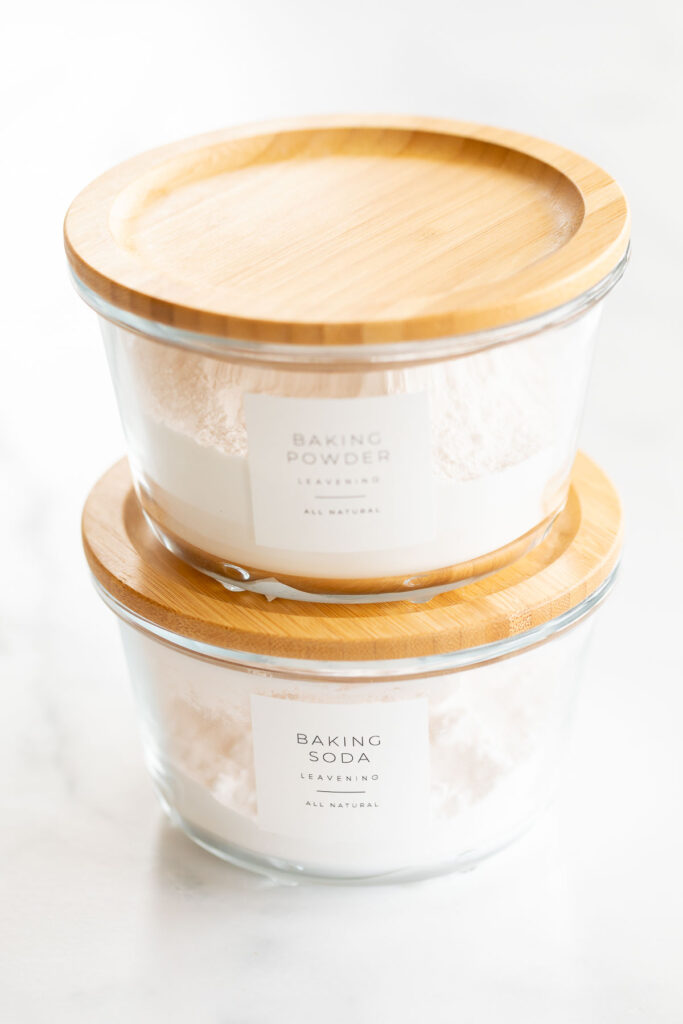 Dry Yeast
If you're measuring yeast out of a jar or other container, follow the same scoop and level method used for baking soda and powder. Yeast is sold in standard-sized packets of 2¼ teaspoons (¼ ounce). If a recipe calls for more or less than 2½ teaspoons of yeast and you only have it in packets, you will have to open the packets and measure it out yourself.
Sugars
We can all agree that it's possible to have too much of a good thing. That's why it's so important to know how to measure your sugars the right way!
White Granulated Sugar, Raw Sugar and Cane Sugar
No matter which type of sugar you prefer, they are all measured the same way. Scoop your dry measuring cup directly into your bag or container. Sugar doesn't settle or pack down like flour, so there's no need to try to fluff it before you scoop. Overfill your cup, then level off the extra with the back of a knife.
You can substitute raw sugar 1:1 for white sugar in a recipe, but be aware that it will change the texture of your result. Try adding a couple of teaspoons of water along with the raw sugar, to balance out some of the extra dryness that will occur. Another tip you can try is to measure your raw sugar first, then run it through a food processor until it is finer in consistency.
Remember that experimenting with different types of sugars is just that: experimenting. The results may not be what you are expecting. For a lot of you, that's part of the fun of baking! If you'd rather get the promised results, make sure to stick to the recipe.
Brown Sugar
Press the sugar firmly into the bottom of a dry measuring cup until it is level with the top of the cup. It should be packed tightly enough for the sugar to hold its shape after the cup is turned over.
Unless a recipe specifically calls for one kind, you can choose either light or dark brown sugar. They are both sweet, of course, but dark brown sugar will have a stronger molasses flavor.
Confectioners' Sugar aka Powdered Sugar
Measure powdered sugar just like flour, by spooning into a measuring cup and then leveling the top.
Cocoa Powder
Cocoa powder is well-known for having lumps in it. In order to get the smoothest results in your baking, sift your cocoa powder before measuring. At the very least, break up big clumps with a fork. After sifting, measure your cocoa powder the same way you do your flour – spoon powder into a dry measuring cup until it is overfilled, then scrape off excess with the back of a knife. Don't tap or shake the measuring cup to get the cocoa powder to settle.
Oats
First, make sure you are using the right type of rolled oats – Old Fashioned Oats or Quick Oats. Both are whole grain oats (a.k.a. groats) that have been flattened in a rolling machine. Old fashioned oats are large, whole pieces of rolled oats that give your baking a chewy consistency. Quick oats have been cut into fine, small pieces and cook quickly. Measuring is the same for either type of oats, and is just like flour. Use the spoon and level method or lightly scoop the oats out of the container, being careful to not compact them.
Shortening and Solid Fats
Shortening, margarine, and peanut butter can all be measured by spooning into a dry measuring cup, making sure all the space is filled so there are no air pockets inside. Level the top of the measuring cup with the straight edge of a knife. Use a rubber spatula to transfer the ingredient to your mixing bowl.
Tip – If you want to avoid having to clean a measuring cup, you can put a piece of plastic wrap inside your measuring cup and then spoon your ingredient into the measuring cup, making sure that it fills the whole cup. Then you can lift the ingredient out with the plastic wrap and scrape it into your bowl, with no mess left to clean up.
Shortening, baking margarine, and cream cheese can be purchased in sticks that have measurement lines on the wrapper. Before you use this measurement, make sure that the measurement lines are centered and even. Sometimes the wrapper isn't put on straight and it throws off the measurement lines. If the lines are even distances from both sides, you can use a sharp knife to cut the amount of shortening you need. If the lines aren't centered, you may want to just measure the shortening or margarine in a measuring cup.
Liquids
Accuracy in liquids such as water, milk, vanilla and oil is crucial to the texture and consistency of your cookies. For these reasons, liquids need to be measured in a liquid measuring cup. For precise measuring, place your measuring cup on a flat surface. Pour your liquid into the measuring cup and wait for it to stop moving. Then bend down so you're at eye level with your measuring cup and see if the liquid is right at the measuring line for the amount you need. Adjust by either adding more or taking out until the liquid is exactly at the correct line.
Semi-Liquids
Sticky Semi-Liquids such as honey, molasses, and corn syrup provide flavor and moistness in our recipes. These are measured the same as regular liquids – pour in a liquid measuring cup, bend to eye level and check for accuracy with the measurement lines.
Tip – Spray the inside of your liquid measuring cup or spoon with nonstick cooking spray before you fill it. The spray will make the sticky liquid slide right out. If there is some left in the measuring cup or spoon, just spray a rubber spatula with the cooking spray and scrape the rest of your ingredient out.
Thick Semi-Liquids such as applesauce and yogurt are measured in a dry measuring cup because they are too thick to level on their own in a liquid measuring cup. Spoon them into the dry measuring cup, level the top, and then use a spatula to scrape the rest of the ingredient off the sides into the mixing bowl.
Add-Ins
Add-ins like chocolate chips, nuts, candy, sprinkles, and dried fruit can just be measured in dry measuring cups. You don't typically have to be as accurate with these because they don't usually alter the chemical make-up of the baked goods.
Using a Kitchen Scale
Using a kitchen scale might seem a bit intimidating if you've never used one before, but it is actually pretty simple and fun to use. It is also the best way to make sure that you're adding exactly the right amount of ingredients by weight, which is the most accurate way to measure ingredients. Measuring cups and spoons measure by volume, and there can be discrepancies in volume depending on how tightly packed the ingredients are. On the other hand, weighing ingredients makes sure that you're getting exactly the right amount as the recipe says. Follow these basic steps for using a kitchen scale:
Turn on your scale and place your mixing bowl on it. Press 'zero' or 'tare.' The scale has reset to 0 with the mixing bowl on it.
Add your first ingredient until it reaches the desired weight–no measuring cup needed. Press 'zero' or 'tare.' The scale has reset to 0 and is ready to weigh the next ingredient.
Repeat this process with all the weighed ingredients.
Recipes that are written with standard volume units – cups, teaspoons, etc. – were created by a chef using a kitchen scale. Then the weighed ingredients were transferred to volume amounts. So, as long as you measure using the proper methods above, your measurements will be pretty accurate.
Measurement Abbreviations
Many recipes use abbreviations for the amount of an ingredient you will need. Use this abbreviation guide to know which measuring tool the recipe is abbreviating.
Measurement
Abbreviation
Teaspoon
tsp. or t. (look for the lowercase t)
Tablespoon
T., tbl., tbs., or tbsp.
(look for the capital T or the addition of the b)
Cup
c.
Pint
pt. or p
Quart
qt. or q
Gallon
gal. or g
Ounce
oz.
Pound
lb.
Fluid
fl.
Small
sm.
Large
lg.
Recipes to Try These Baking Measurement Tips With

What if a recipe calls for sifted flour?
Sifting is the process of aerating flour and removing lumps. Do this by putting your flour into a strainer or sifter and then shaking the flour into your mixing bowl. If your recipe calls for sifted flour, you need to sift your flour first, then measure the amount you need. If your recipe calls for flour, sifted, then you need to measure your flour (spoon and level) and then sift it into your bowl.
Is 1 stick of butter the same as 1 cup?
No, 1 stick of butter is ½ cup. It takes 2 sticks of butter to equal 1 cup.
Join the cookie club! Receive the best new cookie recipes and tips delivered directly to your inbox!
More Measurement Baking Tips
Always read your recipe before you begin baking to make sure you have all of the ingredients, that you add them in the right order, and that that you're aware of any special instructions – like sifting flour, reserving a portion of an ingredient, and if ingredients need to be softened.
Some baking terms are not standardized

Pinch – the amount you can pinch between your fingers
Dash – between 1/16 and 1/8 teaspoon
Scant – slightly less than the measurement that is written
Heaping – the ingredient should be heaping over the rim of the cup or spoon

Don't measure your ingredients over your mixing bowl. It is easy to accidentally put too much ingredient into a spoon so it overflows into the bowl, causing you to get too much of that ingredient.
If your brown sugar has turned too hard to measure, you can put a slice of bread into your brown sugar bag or jar. In a couple of days it will be soft and ready to scoop again. If you don't have a couple of days to wait, you can put a wet paper towel in with your brown sugar and heat it in the microwave for 20 seconds. It should be ready to use in your baking.