Have you ever wondered what Cream of Tartar is, how to use it, or how to make a substitution? We're breaking down this mystery ingredient with all the details!
We all know what basic baking ingredients are used for: flour provides structure, sugar sweetens, butter adds flavor, and eggs bind everything together, etc. Then there's cream of tartar – the ingredient we add because the recipe calls for it, but we don't really know what it is or what it's for. Is it a cream? Is it the same as tartar sauce? Is it even necessary?
This guide is going to change that. You'll learn what cream of tartar is, what it's for, how to use it in baking, substitutions, how to store it, and recipes for practicing. Knowing about this amazing staple ingredient will make your baking better than ever!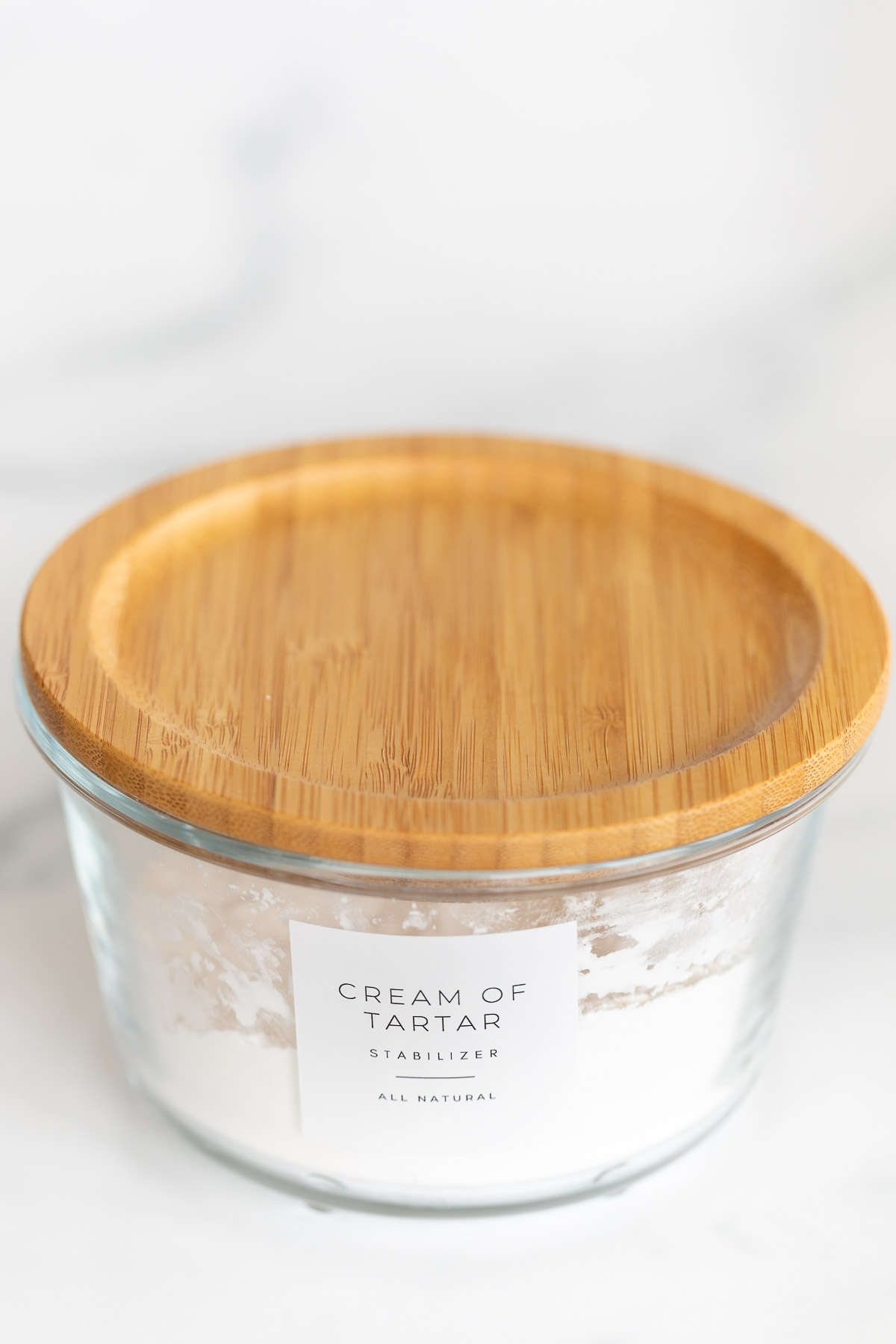 To experiment with recipes that call for cream of tartar, try my funfetti cookies or sugar cookies. You could also try my cinnamon cookies or cutout sugar cookies that don't call for it. It would be fun to compare the results and see if you can notice a difference!
What Is Cream of Tartar?
Cream of tartar isn't a cream at all. It's a dry powder, a chemical byproduct of winemaking. Its official name is potassium hydrogen tartrate, or tartaric acid. It is simply tartaric acid that has been finely crushed until it has reached powdered form. It has acidic properties similar to lemon juice or vinegar.
And, no, it is not the same as tartar sauce, which is a condiment for seafood.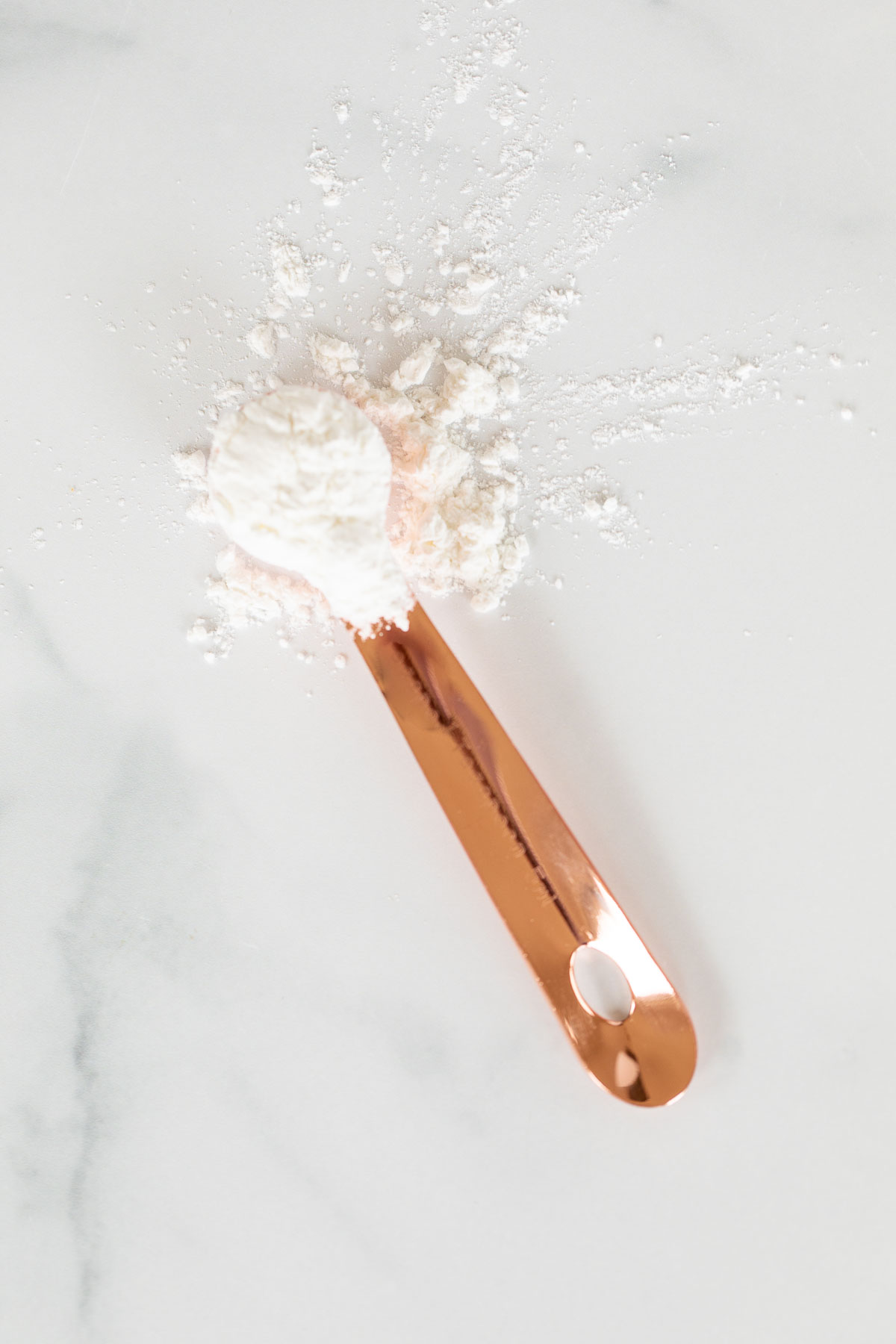 What Does Cream of Tartar Do?
One of cream of tartar's most important roles in baking is to act as a stabilizer, especially in fussy recipes like meringues, angel food cakes, and soufflés, since they have a tendency to deflate. It makes everything light and fluffy.
Adding a small amount to egg whites keeps them fluffy by helping them hold water and air. It also helps your final bake retain its shape. Adding a tiny bit to whipped cream can stop your cream from falling flat.
Cream of tartar is also a leavening agent, helping baked goods to rise. Since it is an acid, it reacts with baking soda to produce carbon dioxide and make your baked goods airy and fluffy. Mixing it with baking soda is actually how baking powder is made, so that when liquid is added, the two ingredients activate and create rise baked goods. Learn everything there is to know about baking soda vs baking powder here!
Another great quality is its ability to slow the process of crystallization in sugar. This makes baked goods smooth and slightly chewy.
Cream of tartar adds its signature tangy flavor. Recipes that call for it would be incomplete without it – not just for its chemical properties but for its flavor. The touch of tanginess balances other flavors.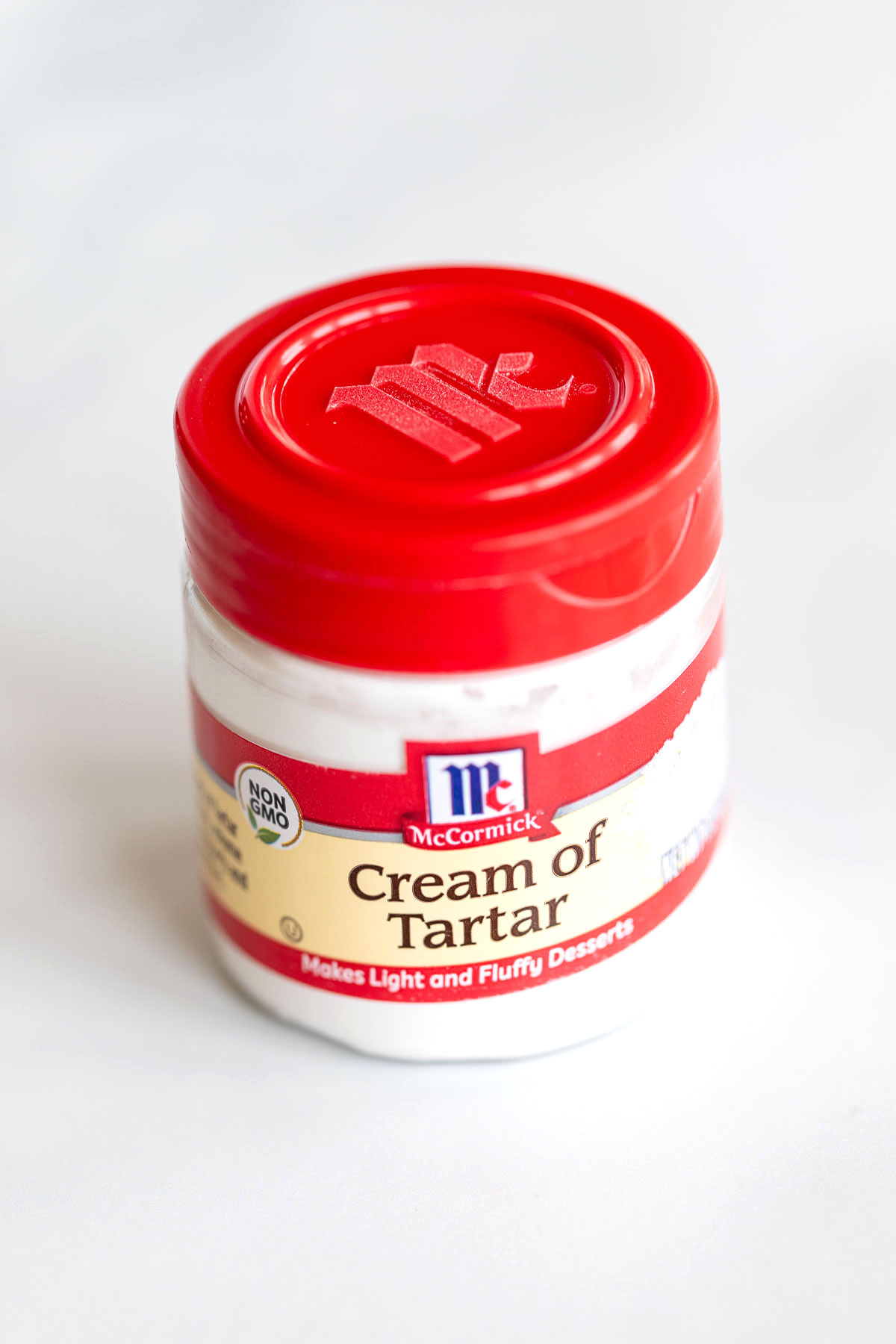 Cream of Tartar Uses – Baking & Cooking
Egg Whites – The general rule is to use ⅛ teaspoon cream of tartar per egg white and beat together until fluffy. It helps the egg whites reach their fullest volume, by creating foam then stabilizing the air bubbles so they stay intact. This will make your angel food cakes as light as clouds!
Whipped Cream – Add a pinch to stabilize your whipped cream. It will help your cream retain its volume and keep it from deflating before it's time to serve dessert.
Meringues – Use it (⅛ teaspoon per egg white) for the smoothest meringues you've ever made. The proteins in the egg whites can't stick together with the cream of tartar, so the finished product will be smooth and have a firm consistency.
Cookies – It also prevents sugar from crystallizing and becoming crunchy. It's why some cookies – like snickerdoodles – are soft, chewy, and a bit tangy.
Vegetables – Add a ½ teaspoon to boiling water for cooking vegetables. It will help the vegetables keep their natural color.
Substitutions
Just in case you don't always have cream of tartar on hand, it's helpful to know some good cream of tartar replacements.
Lemon Juice or White Vinegar – Remember, cream of tartar is an acid, so you can use an acid like lemon juice and white vinegar instead. You'll have to use 2x more, however, to get the desired result. For example, if your recipe calls for ½ teaspoon of cream of tartar, use 1 full teaspoon of lemon juice or white vinegar. The acid will prevent sugar from crystallizing, so your recipes won't deflate. Keep in mind that by using a liquid as a cream of tartar substitute, you're replacing a powder with a liquid. This means the final product might be a little different.
DIY Baking Powder – You can use cream of tartar to make your own baking powder. Combine ¼ teaspoon baking soda with ½ teaspoon cream of tartar to use in place of 1 teaspoon baking powder. Combining these two powders will create a leavening agent that will produce carbon dioxide and cause your baked goods to rise.
How to Store
Keep your cream of tartar stored in a cool, dry place and it will last forever! Make sure it is in a sealed, airtight container, too. Before you use it, you can double check it by making sure it looks white and powdery and smells slightly acidic. Trust me though, there's no expiration date, so as long as you store it correctly, go ahead and use it!
Make sure to always have this staple pantry ingredient on hand. It is definitely a powdery powerhouse ingredient for amazing baking!
How to Measure

Cream of tartar is usually added in small amounts with a measuring spoon. Start by aerating the powder in the container a bit so it isn't compact, and then lightly scoop with the correct measuring spoon, overfilling and then leveling off the spoon for the exact amount.
Join the cookie club! Receive the best new cookie recipes and tips delivered directly to your inbox!
Tips
Add a pinch into simple syrup so it won't form sugar crystals and will last three times longer.
Use it in any recipe that calls for whipping egg whites (even if the recipe doesn't tell you to) to make sure that the egg whites stay foamy and fluffy when you fold them into other ingredients. You can use the ratio of ⅛ teaspoon per egg white.
When do I add cream of tartar to egg whites?
Add it before you start mixing so that the two ingredients are mixed together right from the beginning.
Where is cream of tartar in the grocery store?
It is sold in the baking aisle where the spices are shelved.
Is cream of tartar the same as tartar sauce?
Absolutely not. Cream of tartar is an amazing ingredient to use in baking and tartar sauce is a condiment that is eaten alongside seafood.