When it comes to baking, the right tools can make all the difference. You'll love using cookie dough scoops in your baking to get professional-looking results every time. Learn all about this versatile tool, including sizing, uses, and why you'll love having a set of your own!
You've done the work of measuring the ingredients and mixing the dough. Now you're ready to enjoy some delicious cookies! But first you've got to get them onto a baking sheet and into the oven.
If you've ever asked yourself, what can I use to scoop cookies, this is it! Cookie scoops take all the guesswork out of the sizing and leave you with perfectly consistent, rounded balls of cookie dough.
Cookie dough scoops are especially handy for sandwich cookies like Oatmeal Cookie Sandwiches, where you want the cookies to be the same size for stacking. But they're also perfect for classic cookies like Disappearing Marshmallow Cookies, Reeses Pieces Cookies, Thin Chocolate Chip Cookies, and Strawberry Cheesecake Cookies.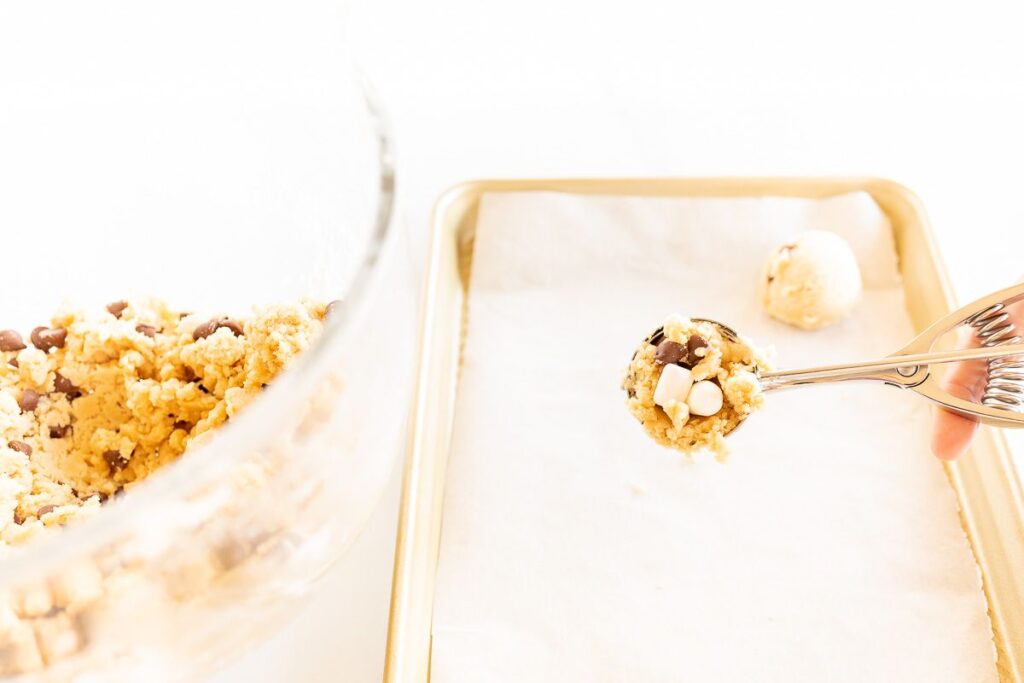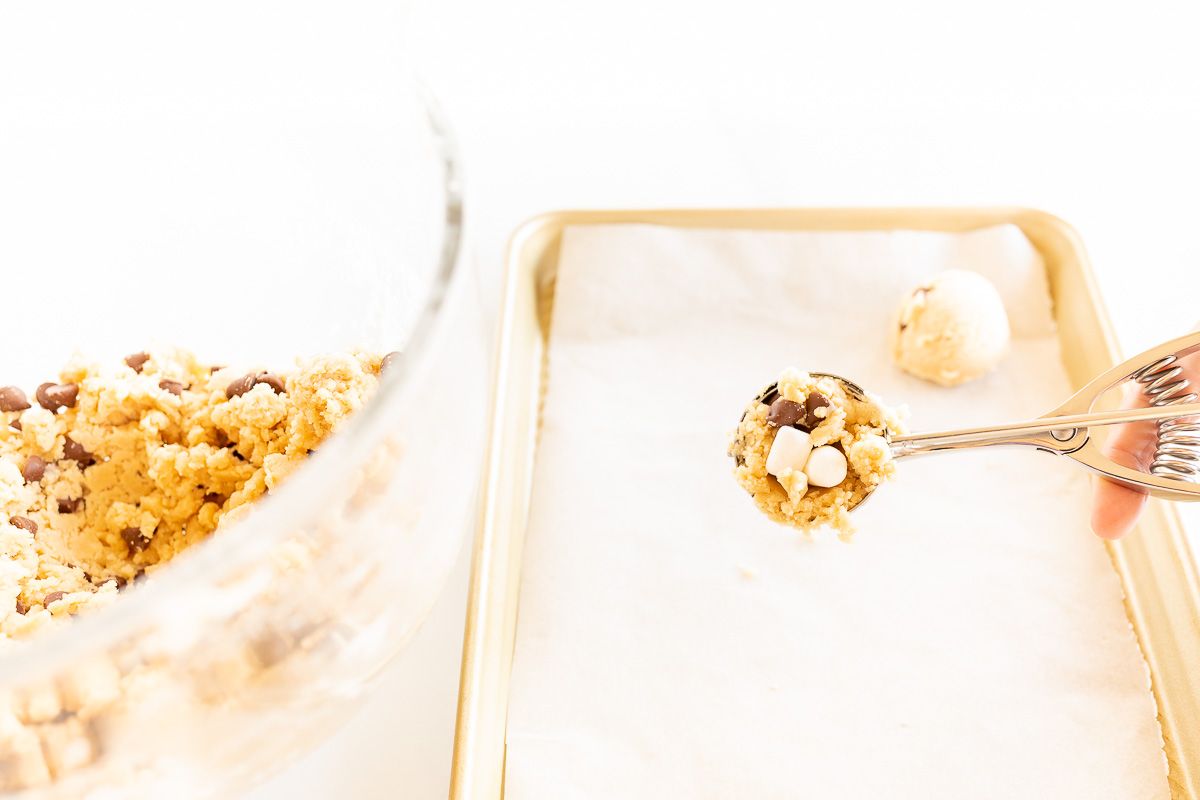 What Is a Cookie Scoop?
If you've never used a cookie scoop before, you may be wondering what the fuss is about. Is it the same as a large spoon or ice cream scoop?
Cookie dough scoops, sometimes called dishers, are a specialized kitchen tool, different from a regular spoon or scoop. They come in a variety of sizes for different jobs and easy measuring. The best part is the blade that pushes the dough out easily when you squeeze the spring-loaded handle.
To use your scoop, first scoop up your cookie dough then flatten the bottom edge. This will ensure that your cookies are all the same size. If your recipe calls for rolling the dough into balls, first scoop the right amount using your scoop, then roll into a ball with your hands. You can always flatten the balls a bit if needed, using the bottom of a drinking glass to press lightly.
A good cookie scoop will give you beautiful, evenly baked cookies – every time!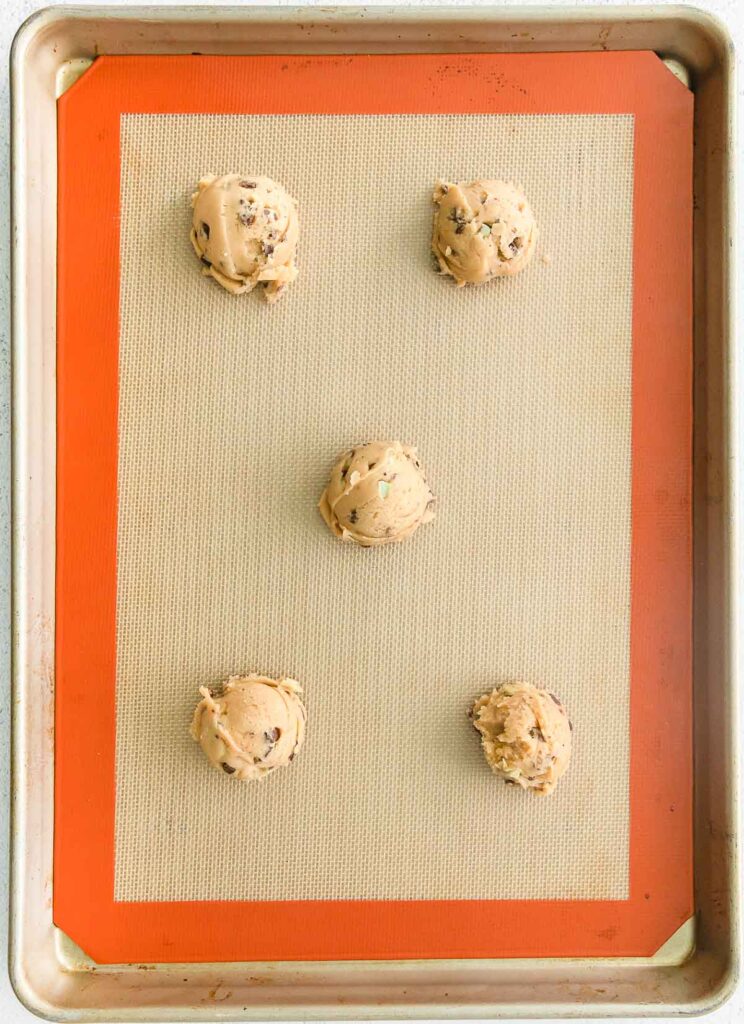 Why You Should Use a Cookie Dough Scoop
Consistent Cookie Size – helps cookies bake evenly
Makes pretty, round cookies
Perfect for professional-looking baking
Versatile uses in cooking
Easy to clean
Cookie Scoop Sizes
One of the best things about cookie scoops is that they come in so many different sizes, so there's sure to be one just right for the job.
Scoops are measured in tablespoons or by a number that is usually etched on the inside of the scoop. The size number refers to how many scoops you can get out of 1 quart. For example, a #16 scoop would give you 16 scoops out of 1 quart, and a #40 would give you 40 smaller-sized scoops. The higher the number, the smaller the scoop will be.
Different brands classify their scoops differently, so you can't always trust two "small" scoops to be the same size. One brand may name a #60 its small size, while another brand's small is a #100. The same goes for medium and large.
That's why it's good to think in terms of size number and how many tablespoons each scoop holds. Here's a list for the different scoop sizes and how much dough fits in each one. They're classified into extra large, large, medium, and small for easy reference.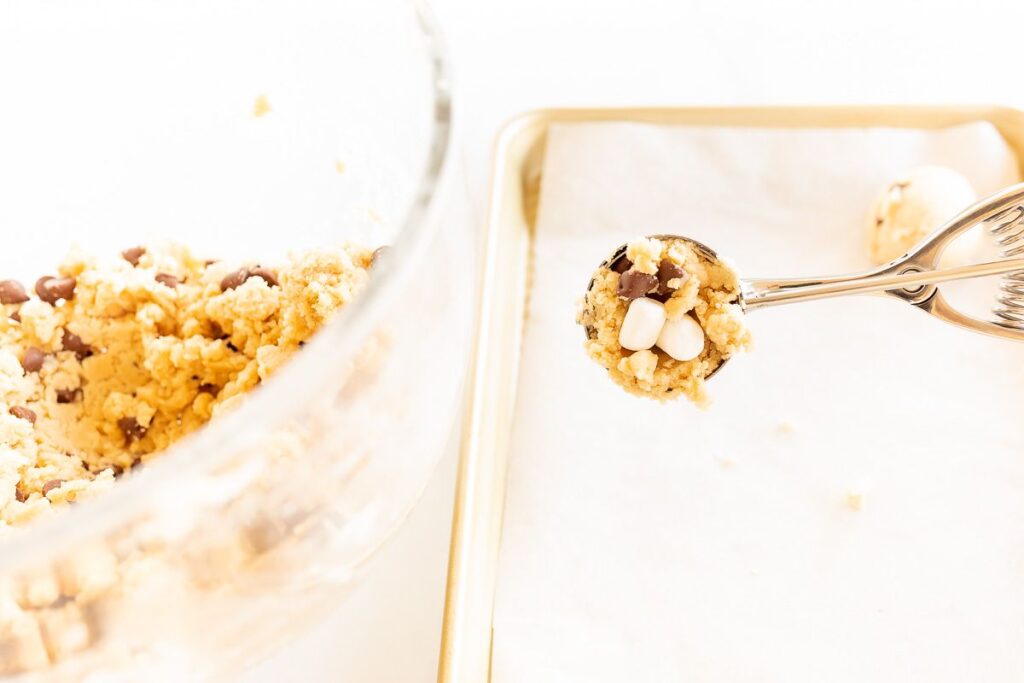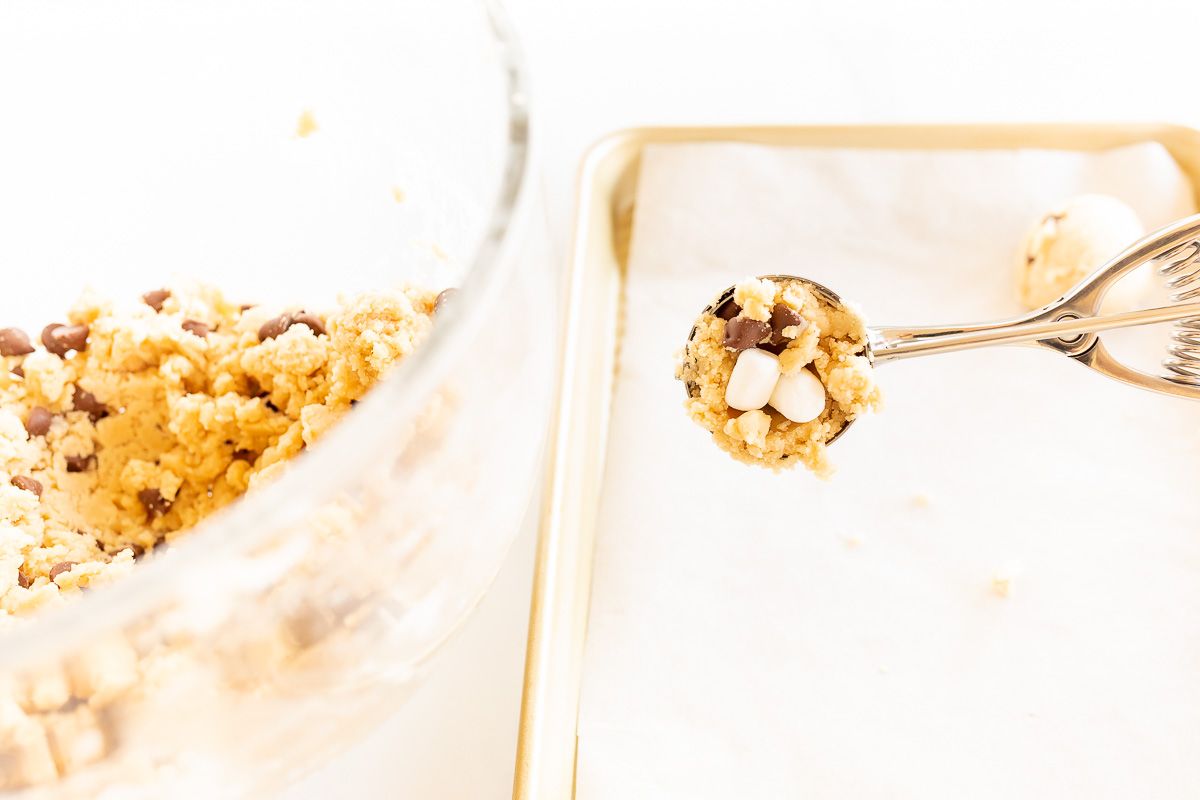 Extra Large
These sizes are perfect for those gigantic cookies we all love.
#6 (3″ diameter) – holds 10.7 tablespoons (5/8 cup)
#8 (2 7/8″ diameter) – holds 8 tbsp (1/2 cup)
#10 (2 5/8″ diameter) – holds 6.4 tbsp (3/8 cup)
#12 (2 3/8″ diameter) – holds 5.33 tbsp (1/3 cup)
Large
A #16 (1/4 cup) scoop is a standard large scoop. It is a great scoop to keep on hand for large cookies and other baking jobs. A #20 scoop is also in the large range.
#16 (2 1/4″ diameter) – holds 4 tbsp (or 1/4 cup), makes 3 5/8″ cookies
#20 (2″ diameter) – holds 3.2 tbsp, makes 3 3/8″ cookies
Medium
A medium scoop holds around 2 tablespoons, so it could be anywhere between #24 and #40 depending on your preference.
#24 (1 7/8″ diameter) – holds 2.67 tbsp, makes 3 1/8″ cookies
#30 (1 3/4″ diameter) – holds 2.13 tbsp, makes 3″ cookies
#40 – holds 1.6 tbsp, makes 2 3/4″ cookies
Small
Typically, the best small scoops are in the range of #60 – #100. I'm including #50 on this list, too, so you know that it's available.
#50 – holds 1.28 tbsp, makes 2 1/2″ cookies
#60 – holds 1.07 tbsp, makes 2 1/4″ cookies
#70 – holds 0.91 tbsp, makes 2 1/8″ cookies
#100 – holds 0.64 tbsp, makes 2″ cookies
Please note that the size of cookies each scoop will yield is approximate. Cookie size depends so much on the type of cookie, the amount of spread during baking, the temperature, and so on. These sizes are just to give you a general idea, but your cookies may be slightly different.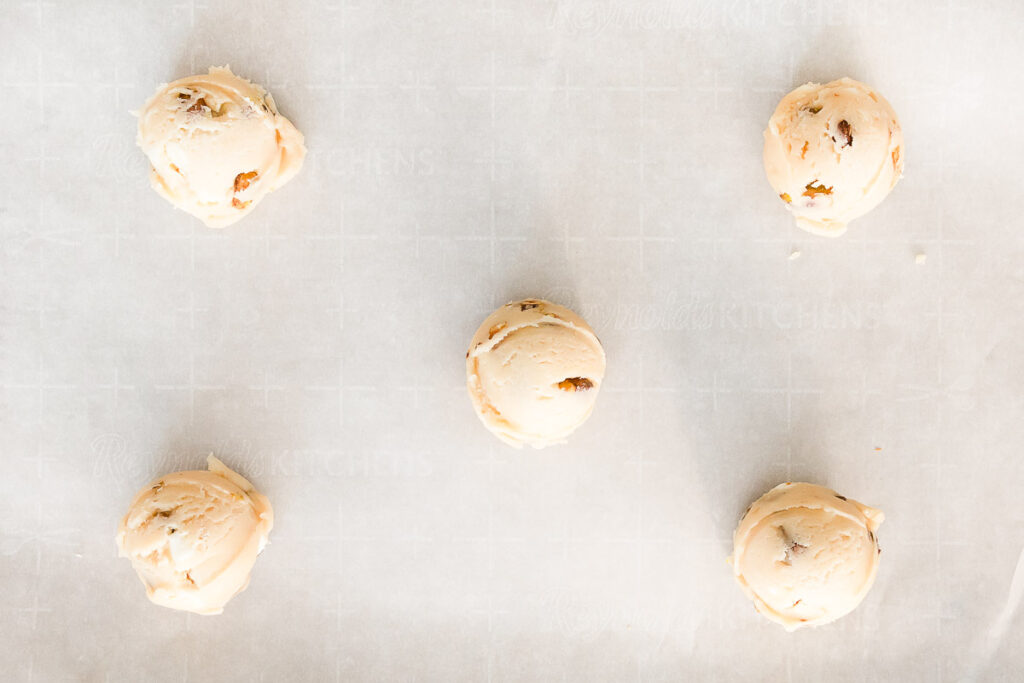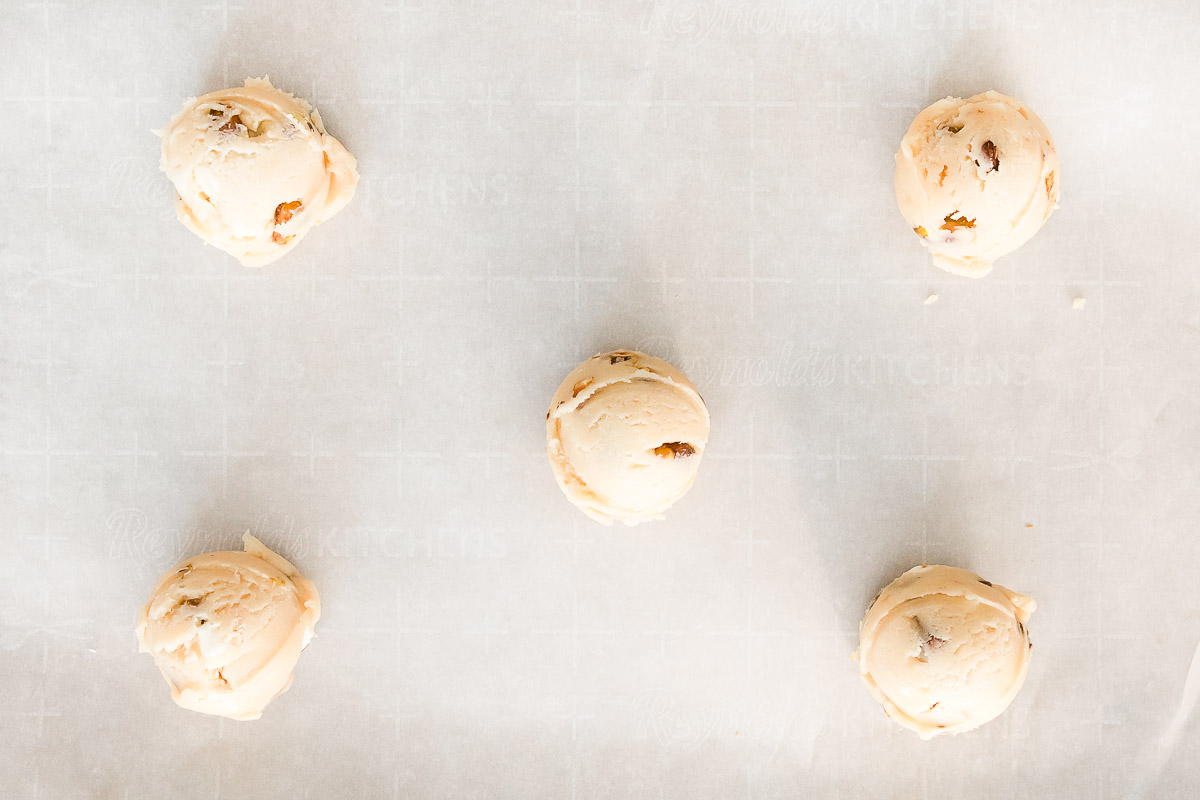 Best Cookie Scoop
If you just want one, choose a good quality medium-size scoop. It will be the most versatile for you and will work perfectly for most types of cookies. If you want a larger cookie, you can always fill your scoop twice. For example, two #30 scoops equals about the same as one #16.
Cookie Scoop Set
Chances are, once you've started using cookie dough scoops, you're not going to want to stop at one size! You'll want to complete your set so you always have the size you need when you need it.
Of course, you don't have to purchase every size scoop. That makes sense for professionals, but for most people, a good set with a small, medium, and large scoop will do the trick.
Remember that those labels will vary between brands, so choose a set with the sizing numbers that you like best. Typically, a set will have one labeled small (around #60), medium (#30 or #40), and large (#16 or #20). An extra large scoop would be icing on the cake.
More Uses for Cookie Scoops
Even though they're called cookie dough scoops, they're definitely not just for cookies. Use them in your cooking, too! You'll love how versatile these scoops are in your kitchen. Here are a few ways to use your set of scoops:
Muffins & cupcakes – A large scoop is ideal for filling muffin tins. It doesn't make a mess, plus it ensures that each muffin or cupcake will be the same size and bake evenly.
Ice cream & whipped cream – An extra large scoop is perfect for scooping ice cream, and a large scoop will give you just the right amount of whipped cream. The ice cream should be somewhat soft, so that it doesn't damage the blade inside the scoop.
Pancake & waffle batter – Use an extra large scoop for easy, consistent sizing.
Sour cream & guacamole – A small scoop is just the right amount for a dollop on the side of a salad.
Mashed potatoes – An extra large scoop will give you a generous serving, and there won't be any mashed potatoes left sticking to a serving spoon.
Meatballs – Use a small scoop for easy-to-make, uniform meatballs.
Sandwich filling – Think of tuna salad, egg salad, chicken salad, and more. A large scoop puts just the right amount onto your bread. You can even flatten it with the back of the scoop.
Frequently Asked Questions
What size scoop is best for cookies?
A medium scoop that holds about 2 tbsp. of dough is ideal for most cookies. It will make cookies that are about 3 inches across. For jumbo cookies, you can fill your medium scoop twice and roll the dough into a ball. You can always add to your set with different sizes later on.
What is a 2 tablespoon cookie scoop?
A 2-tablespoon scoop is a medium cookie dough scoop that holds about 2 tablespoons of dough. In scoop sizing, a medium is a #24, #30 or #40. Which size you choose depends on your preference.
Are cookie scoops worth it?
Yes, they are! Technically, you can use two teaspoons to scoop your dough. However, cookie dough scoops will give you easy, even sizing every time. This means your cookies will bake evenly. You can also use cookie scoops in more than baking – they are so versatile! Buy a good-quality scoop and it will last for years.